? Tharkayta Crocodile farm (သာေကတ မိေက်ာင္းေမြးျမဴေရးစခန္း) ?
There is a lesser known interesting spot near downtown yangon, Tharkayta Crodcodile farm. It is a government-run farm that breeds crocodiles to maintain their population. Its located next to Pazundaung Creek.
There are many different sizes of crocodiles divided by age in their respective area. Small crocodiles are very cute and giant crocodiles are pretty scary. Some of saltwater crocodiles are like monsters, growing up to 15feet long.
Wooden walkways lead over pools and their railings keep one at a safe distance. One can buy fishes to feed these crocodiles. Watching their open jaws and their mouths snap around pieces of fish, can surely send a chill down the spine. While walking around on the woodden walkway, we noticed a crocodile silently following us under the walkway. Maybe it was hoping that the rotten wood would break, and we would become his lunch. Kinda scary.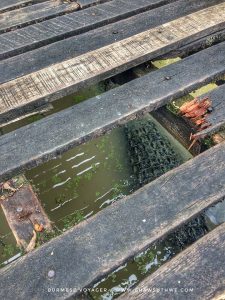 There is also a small crocodile breeding center where one can learn some more about the lives of these frightening creatures. An uncle explained the interesting facts about these, in broken English. One can even take pictures with a baby crocodile. Crocodile eggs, jaws, teeth and skin from dead crocodiles were new things that we had never seen before.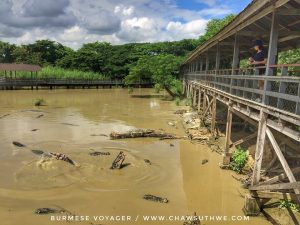 Tharkayta Crocodile farm is a pefect spot to spend few hours, especially for people who like to see these kind of creatures. ?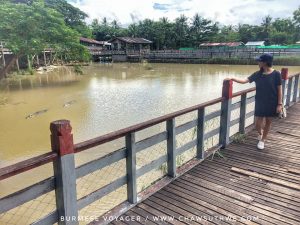 Getting there
It takes a 30 min taxi drive from Sule (downtown, yangon). It is off the main road from Yangon to Thanlyin, at the end of a street leading into the Tharkayta Industrial area.
Opening hours
6 am – 6pm (Everyday)
Entry fee
Local – 500 kyats
Foreigner – 1000 kyats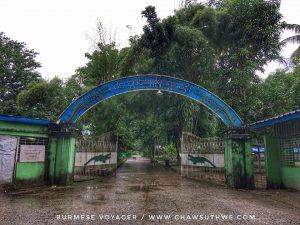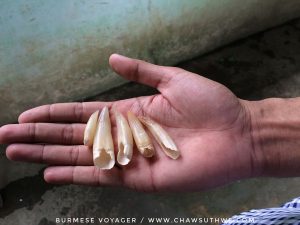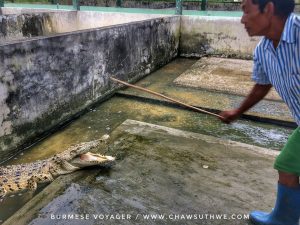 —————————————————