Giving Back through Education
Everyone has the right to education, no matter their ethnicity, background, color, or gender. Quality education aims to ensure the development of a fully-rounded human being. It is one of the most powerful tools in lifting people into a well-functioning society. And every individual has the potential to create change, whether in their life, their community, or the world. The power of education is to unlock that potential. Access to high-quality education has been a privilege for a few but it is no more so in this digital world. I am breaking down all social, economic, and geographical barriers by developing and offering E-learning courses to enable everyone to learn anytime, from anywhere, and in any part of the world. My passion has always been nurturing people to learn new skills to enhance their careers and lives. I am giving back to the community through education and online learning, which will enable learners to unlock their potential and become better versions of themselves.
---
My Mission
Four commitments I've made since day one:
To educate people for their self-development
To transform lives through education and learning
To ascertain boundless high-quality education
To advance teaching and learning offline and online
6000+
Trained Professionals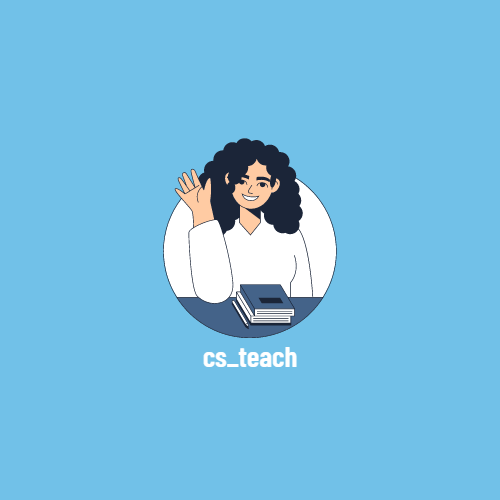 My Story
From Traditional to Digital
Throughout my career journey, I have always been a trainer who teaches in the classroom, in face-to-face and instructor-led training. And I am adept at technical topics because of my academic background and qualifications. Even though I am a trainer by my profession, I am always looking for a way to combine technology into my career. After working for more than 10 years in corporate and non-profit sectors, just before the 2019 pandemic started, I joined a program that led me to explore new technologies and tools which I integrated into my traditional classrooms. I was able to use different training methods during the pandemic, and transformed my way of teaching, giving my students a more digitalized learning experience. Due to my home country's political instability and personal reasons, my base location kept changing, and as a result, I was not available as an in-person trainer anymore in my home country. My students who kept asking for remote classes are my main motivators to create my platform that would offer courses online, open to any person up for the challenge.
In December 2020, as part of my E-learning journey, an effective presentation course was launched on my own LMS: BetterLearn. In March of 2023, chawsuthwe.com was re-launched, and cs_teach was born along with BetterLearn | E-learning Hub.
Currently, I am offering E-learning courses, online classes, coaching, and other in-person classes if requested. All courses are free if you are from Myanmar, and you might owe me a coffee if you are from another country. The courses are solely designed and created by me. I bring all my expertise and knowledge to enhance your digital learning experience.
---
My Academic and Career Timeline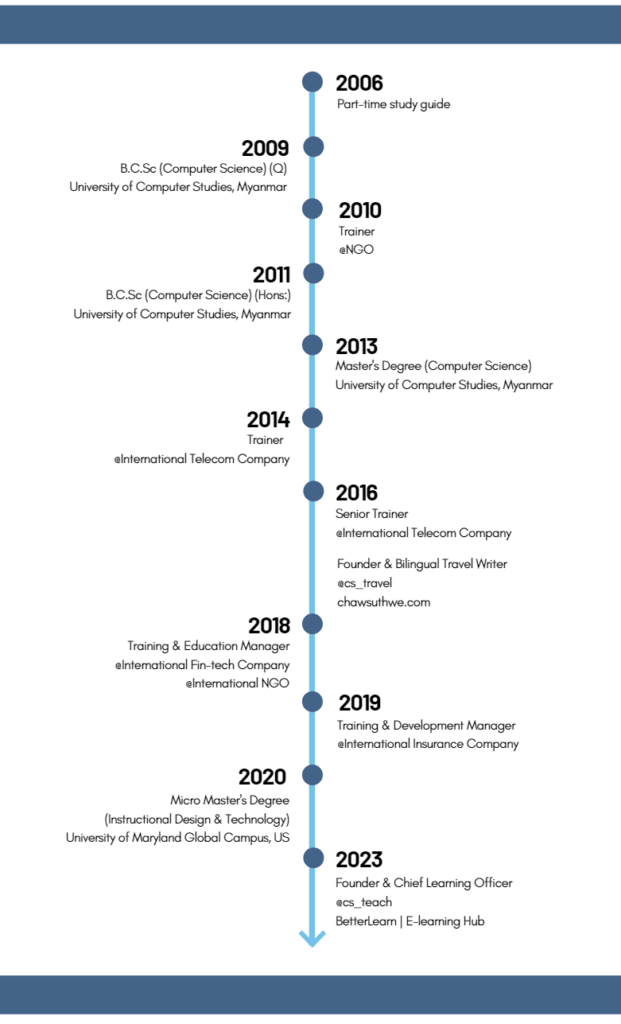 ---
---