I was surprised to see the layers of Rock Mountains in the desert state, Rajasthan. We were on our 5 hours road trip from Delhi to the world famous pink city of India, Jaipur. The oldest range of fold Rock Mountains (called Aravalli Range) of India was welcoming us to Jaipur. As it was winter, the early morning cold breeze made us freeze and sneeze on the way. As the sunshine came up slowly, we felt warmer. We stopped by a local shop which served various food items including Snakes (I swear that the menu said snakes, which made me chuckle). We had Aaloo paratha that was just normal taste and I didn't try the snakes (I hope they meant Snacks). Been on a road trip is always good for chit chatting and for enjoying some music even though it's difficult to catch radio signal on highway road.
As a mountain person, I loved it to see the mountain ranges in Rajasthan, even though there were totally tree less and were showing off their rock layers.
As I continue seeing different places in India, I have started to agree with the fact that it is truly 'Colorful India'. I have witnessed diversity of cultures across India, the colorful faces of India, the marvelous architecture of India and the super delicious food which changes in every state. Now, this time we got the chance to see the exclusive color scheme, pink.
Jaipur  – The Pink City of India
Jaipur, the capital and the largest city of western Indian state of Rajasthan, was built 290 years back by Maharaja Jai Singh II, the great warrior and astronomer. He used to rule from the magnificent Amber fort and he built a city around the fort. The city was named Jaipur, after himself. This planned city was constructed under the traditional Hindu system of architecture along with nine blocks and included state buildings, palaces and forts.
The whole city was painted into pink color during the rule of Maharaja Ram Singh I (Jai Singh descendent) in 1876 to welcome the Prince of Wales and Queen Victoria. Since Pink denotes the color of hospitality and welcoming, the city kept its distinct pink color after their visit. Although, the original purpose of painting the city into pink was to impress the British Prince and queen, the traditions has been maintained and almost all residents in the old city preferred to use pink color stone for construction. Thus Jaipur fame as Pink City lives on.
Around Jaipur, a stunning array of forts, palaces, temples and other fortifications line various hilltops. Jaipur, the pink city, still holds to its roots and values even after modernization.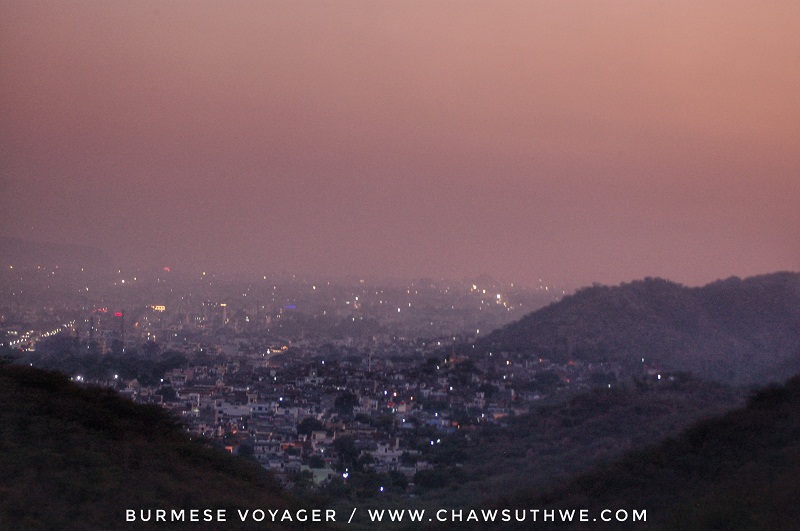 Day 1
It was around afternoon when we arrived in Jaipur and we headed directly to the places on our planned list. The historic city of Jaipur stands out as one of the most spectacular and culturally vibrant destinations in the world; there are a lot of magnificent historical structures to explore. Wonderful forts and monuments garland the entire city in a planned manner. The first things we saw when we approached to the well-known Amber fort (Pronounce: Amer fort) are the richly decorated elephants and camels who were casually going about. It felt nice to drive through this fast growing and bustling city with a backdrop of different forts on hilltops.
After navigating traffic-stoppers (Elephants and camels), we headed towards the base of Amer fort. There was a long queue of cars that were stuck in a narrow lane and we found a step well in that lane.
That step well, Chand Baori, is located in the village of Abhaneri close to Amer fort. Chand Baori consists of 3,500 narrow steps with 13 levels going down to approximately 30 m in the ground. This step well is one of the deepest and larges step wells in India and it's more looking beautiful than Delhi step well as per me. The oldest and most attractive landmark, Chand Baori, was built by King Chanda between AD 800 and AD 900.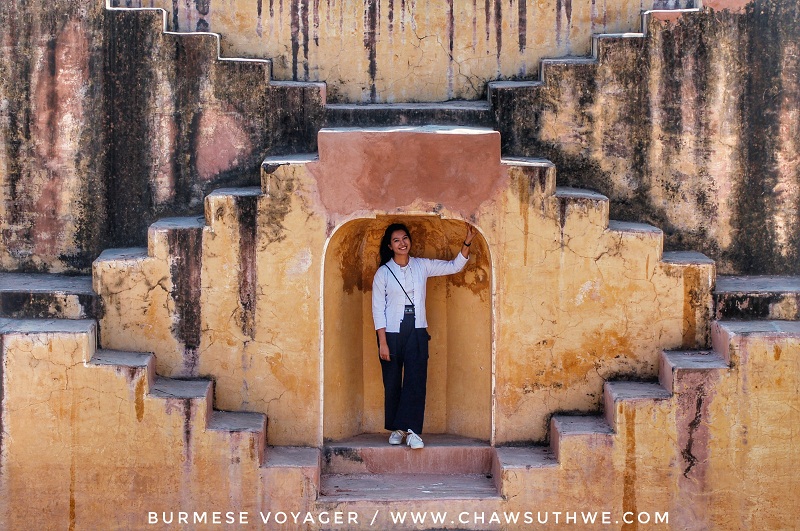 At first, the guard didn't allow us to go down the step well for picture for safety reasons as it is pretty deep. But we requested to let us go only for a few steps and thankfully he permitted us to do so.
There is water at the bottom of the well and it's green in color due to algae. It was used as a community gathering place for locals during periods of intense heat, as the air within remains cooler than at the ground surface. This Baori was intended and designed to save as much water as possible for the Rajasthan's extremely arid weather.
The steps are designed in very geometrically symmetric patterns.  After taking a few pictures and we joined back to the traffic queue moving towards Amer fort.  As the fort is located on top of the hill, the road had a very steep incline that was difficult to drive on. Also because of many tourist cars, it was not easy to get a parking but we found one.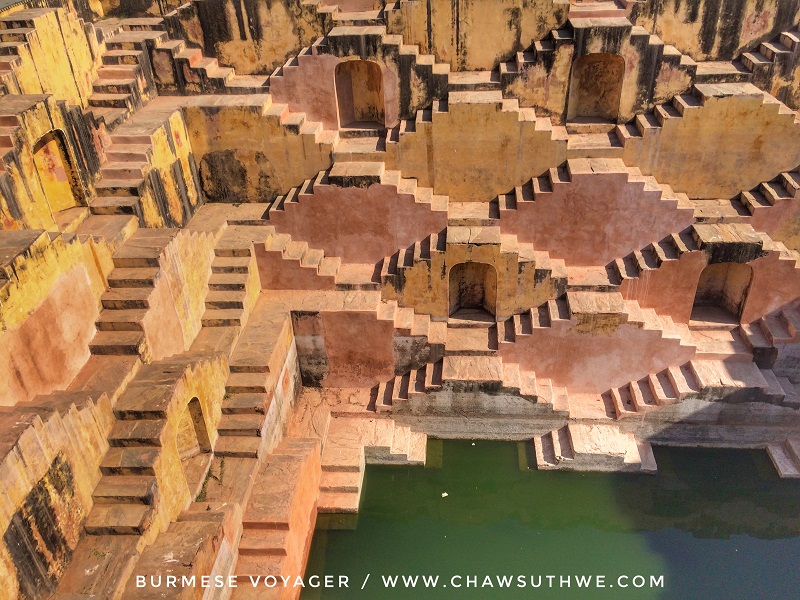 Near the entrance of the fort, the view of the winding fort walls was amazing. I told my travel partner that "Hey, see? We are at Great wall of India now" and he chuckled. We were happy to see this wall going till the end of our sight. I stopped by a local Rajasthani musician at the entrance who was playing traditional song on a string musical instrument called Chikara. The rhythm of the music was peaceful and pleasant to the ear.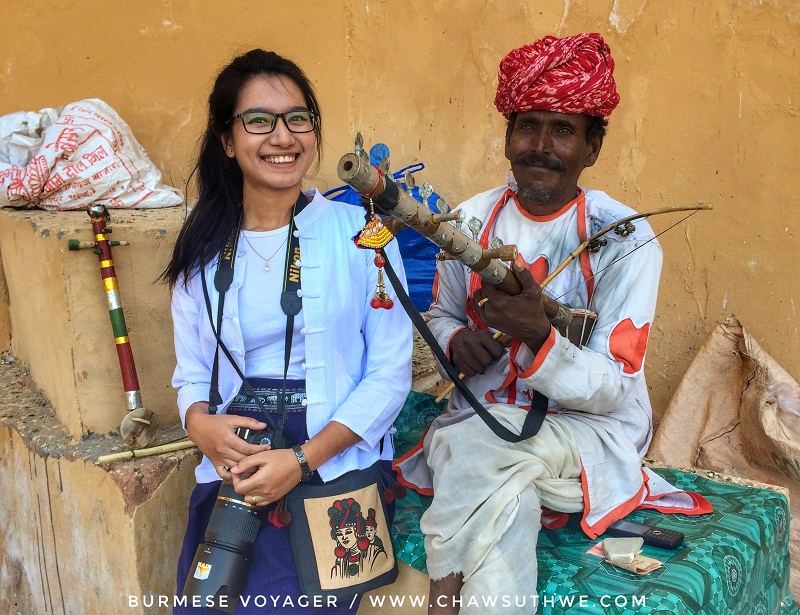 We reached ticket counter and bought the composite tickets that covered 7 monuments, valid for 2 days. Ticket costs 1000 Rupees for Foreigner and 300 Rupees for Indian.
One can spot elephants coming up to the fort who were carrying foreigners. This is a common scene in Rajasthan.  As an animal lover, I don't encourage the practice of elephant rides or camel rides because I personally think it's cruel to the animals and they are often treated very poorly by their keepers.
This massive fort-palace complex was built 425 years ago using hybrid of Hindu-Muslim style with its large ramparts, series of gates, cobbled paths and it overlooks a lake. The palace was constructed using red sandstone and marble, laid out on four levels each with a courtyard.
First courtyard consists of a temple where Rajput Mahrajas worshipped and Ganesh Gate from where the ladies of royal family used to watch functions. Temple was closed by the time we reached there. Ganesh Gate is a very beautiful building decorated with pastel colored flowers carvings.
Second courtyard consists of 'Public Audience hall' where the king held assemblies to meet and receive petitions from the public.
Third courtyard consists of consist of 'Mirror Palace' where the private quarters of the Maharaja and his family attendants were located. Mirror palace is decorated with glass inlaid panels and multi mirrored ceilings. The mirror mosaics and colored glasses were shining as jewel box.  Convex shaped mirrors designed with colored paint sparkled bright. Mirror palace was my personal favorite part in Amer palace because of its unique and reflective mirrors.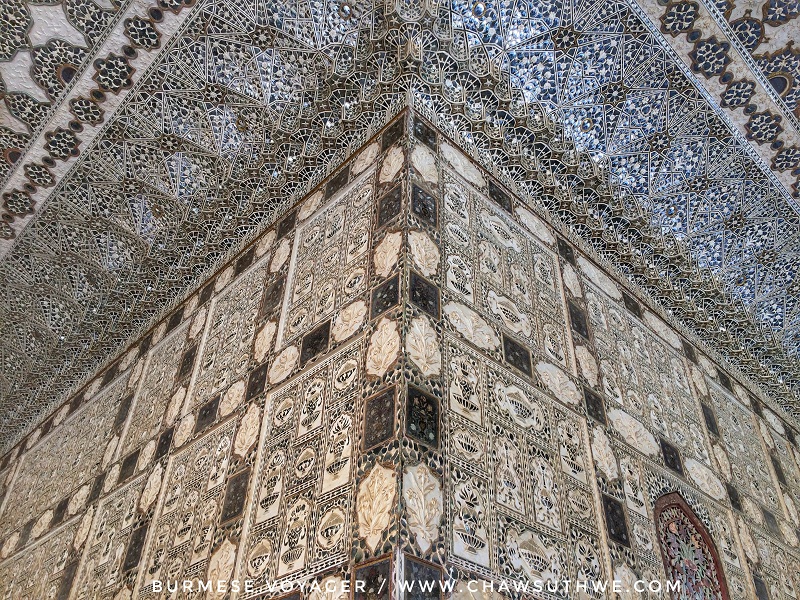 Fourth courtyard consists of many living rooms where family women and mistresses lived and consists of 'Hall of Private Audience' with floral glass inlays and mineral or rock carvings.
Every corner of the palace has its own glorious architecture which would connect one to the history on a very personal level.  It took around two hours for us to see each corner of the fort and palace, which gave us the chance to see the rich historic architecture of Rajasthan.
This UNESCO world heritage site, Amer fort, is built on Aravalli hill range along with other forts in this region. A nearby fort, Jaigarh fort,  is said to be connected with Amer fort by subterranean passage which is believed to be an escape route in times of war.
Wherever one would look through the fort windows, one could see the scenic view of the city and the winding fort walls. This massive complex of the palace and fort, is the evidence of the history that is very much alive in Rajasthan.
After coming out from Amber fort, we went to Jaigarh fort by driving on winding hilly road. As weather become a little hotter in the afternoon, we skipped going inside Jaigarh fort and just took some pictures in front of it. After that we headed towards Nahargarh fort which was located on the same Aravalli range. The hilly road and green environment gave us the feeling of driving on a hill station although the weather was hot and dry.
It was crowded at Nahargarh fort when we reached there. Before going around in this fort, we had our very late lunch at food court, under a shady tree. Food court offered many Indian dishes and we tried Rajasthani food (Dal Bati) which was made out of flour and bean curry. Although the food was authentic, the taste was just ok.
Nahargarh fort stands on the edge of the Aravalli Hills, overlooking the city of Jaipur. This fort was built in 1734 by Maharaja Sawai jai Singh II and constructed as a place of retreat on the summit of the ridge above the city. Walls extended over surrounding hills, forming fortifications that connected this fort to Jaigarh, the fort above the old capital of Amber.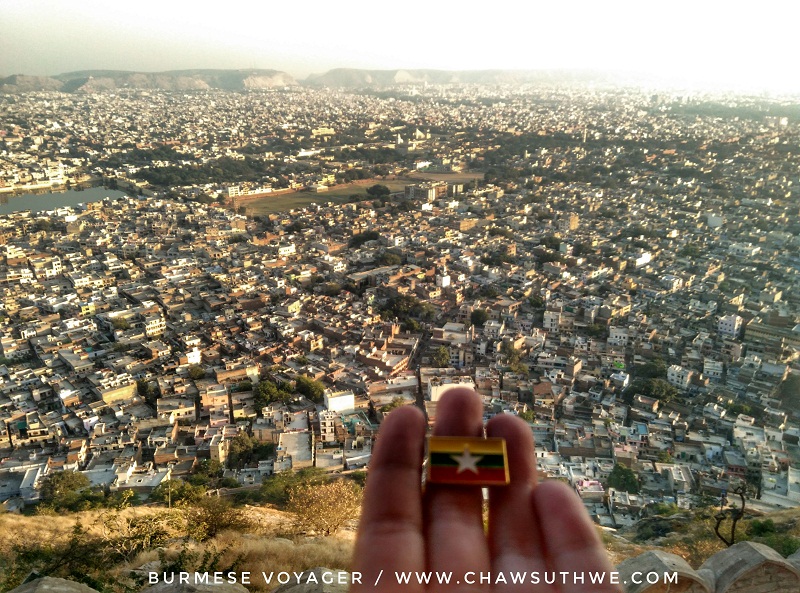 There is a palace inside the fort called Madhavendra palace which was built in 1883 by Sawai Madho Singh. The palace had suites for the queens of Jaipur and at the head was a suite for the king himself. The rooms are linked by corridors and the paintings on the wall of the palace were very beautiful with colorful floral designs.
The view form Nahargarh fort was very wonderful, and one can see the well-planned city in aerial view. We watched the beautiful scenery and the sun going down, from the top of Madhvendra palace. The orange sun setting behind the palace domes was beautiful and we felt that the eye-catching evening view of the city somehow seemed pink in color
That moment when we were gazing at this magical city, which was displaying a vibrant array of colors amidst its rosy ancient palaces, was the most unforgettable moment in Jaipur.
When the sun was about to set, we headed to our next destination, Jal Mahal Palace.
When we drove back from Nahargarh fort, we spotted two glorious peacocks who were watching sunset.  After we clicked some pictures of them, we stopped at an edge of the hill to take the city area and Jal Mahal pictures. The view of the palace in the lake, from the Aravalli hill, has its own scenery with the background of rosy city Jaipur.
Jal Mahal (meaning 'water palace') is a palace in the middle of the Man Sagar Lake. The palace and the lake were renovated and enlarged in 18th century by Maharaja Jai Singh II of Amber. The palace built in red sandstone, is a five storied building of which four floors remain underwater when the lake is full and the top floor is exposed.  This palace is an architecture showcase of the Rajput style of common Rajasthan architecture.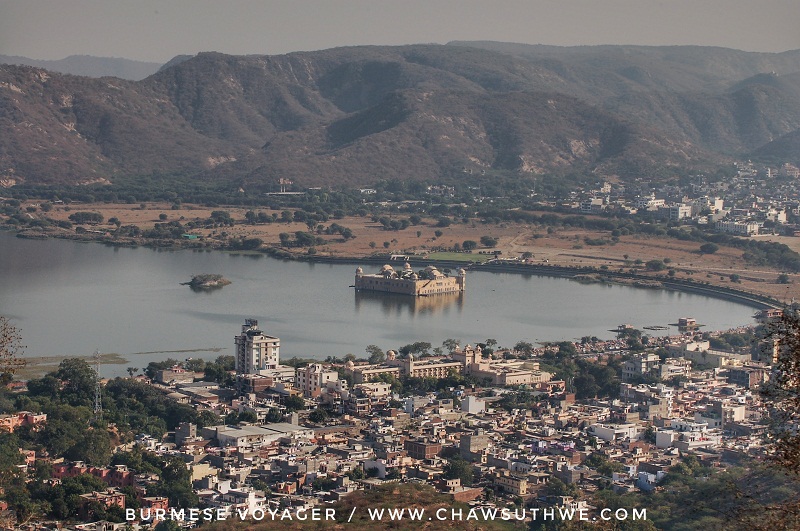 The palace building sitting in the middle of the lake makes a picturesque view. As this Jal Mahal palace is not open to visitors inside, we snapped the palace picture from the Nahagarh hill and also from the lake front. At evening time, the city turned into dusky pink and look beautiful.
When the dusk came, we headed to our hostel and took rest for some time. After that, we went to a local non-vegetarian shop for our dinner, and had super delicious malai-chicken with rice. My travel partner had mutton curry which was very tasty as per him.
After our heavy dinner, we headed to the downtown of Jaipur, to click some night time pictures of the famous places. As all tourist spots are closed at 6PM, the places were decorated with light at night that gave us nighttime photography practice. We went to Hawa Mahal and Albert Hall Museum, and good some beautiful pictures. Temperature became low at night and we fell asleep as soon as we reached back to our hostel.
---
To be continued in Part II.