Day 2
We woke up a little late on the second day's morning and had our self-service breakfast with some bread and bananas. The hostel itself has a good scenic view from the topmost floor which has the background of Aravalli hills and one can even spot the fort walls at a far distance. After lazing in morning sunshine for a few minutes, we moved forward to our next spots that were located in the downtown of Jaipur.
City center of Jaipur was bustling with people, cars and additionally elephants and camels were blocking traffic at some places. Here in the downtown, we again got the chance to witness why the city is called pink city. We noticed a uniform color scheme of pink with a few exceptions.
This historic heritage city is an ideal home base for exploring rich culture, customs, traditions, fairs, festivals, civilization and hundreds of year's old forts and monuments. One can spot many shops selling Rajasthani products with countless displays of their amazing art, craft, dazzling jewelries and marvelous textiles.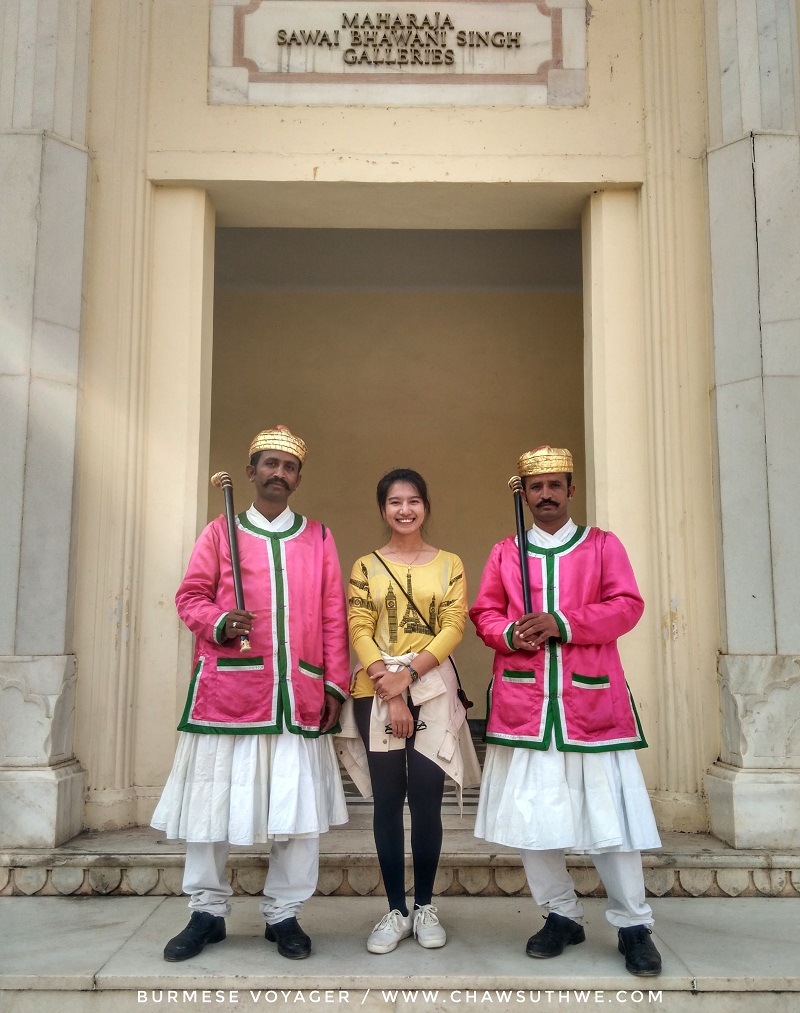 Hawa Mahal ('Palace of winds' or 'Palace of the breeze') is a palace which has essentially a high screen wall built for the women of royal family to observe street festivals while unseen from the outside. This red and pink sandstone palace was built in 1799 by the king Mahraja sawai singh and designed by architect in the form of the crown of Krishna, the Hindu God.
This unique five storey building rises 50 feet from ground and its exterior is similar to the honeycomb of a beehive with its 953 small windows decorated with intricate lattice work. The royal ladies used to observe everyday life in the street below without being seen and this was the original intention of the lattice. The lattice also allows cool air through the patterns. The palace is an extended part of a huge complex.
The front elevation is built with small portholes; each porthole has miniature windows and carved sandstone grills, finials and domes. Behind the front elevation, there are several chambers and corridors which are reaching up to the top floor. The interior of the Mahal has several rooms with beautiful arches, stained glass windows and inlaid stone panels.
My favorite parts of Hawa Mahal were the super cute mini windows and the marvelous street view from these.
We went to a coffee shop located in front of Hawa Mahal that offered better photo opportunities. We had our lunch with this authentic Hawa Mahal top view and that was amazing.
The stone carved screens, small casements and arched roofs are some of the features of this popular landmark of Jaipur.
Jantar Mantar Observatory
This place is located at a walkable distance from Hawa Mahal. We took a small lane and saw very cute baby goats that were wearing sweaters and were playing around in this lane. They were also enjoying the winter and they looked fashionable.
Jantar Mantar monument is a collection of nineteen architectural astronomical instruments, built by the King Sawai Jai Sing II who was a great astronomer. Its construction was completed in 1734 and it features the world's largest stone sundial.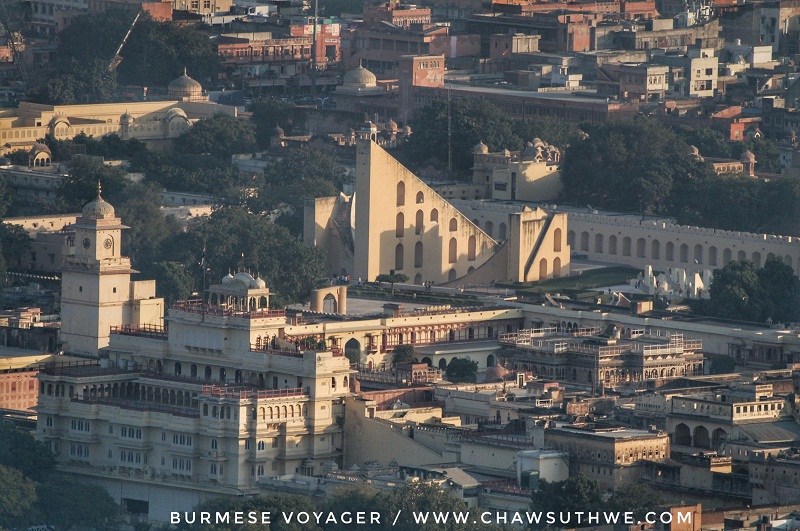 The monument features masonry, stone and brass instruments that were built using astronomy and instrument design principles of ancient Hindu Sanskrit texts. The instruments allow the observation of astronomical position with naked eye.
There was an 'interpretation center' where they explained how all these instruments work, demonstrated with pictures and audio. This UNESCO world heritage site is the example of the observatory of the Ptolemaic positional astronomy which was shared by many civilizations.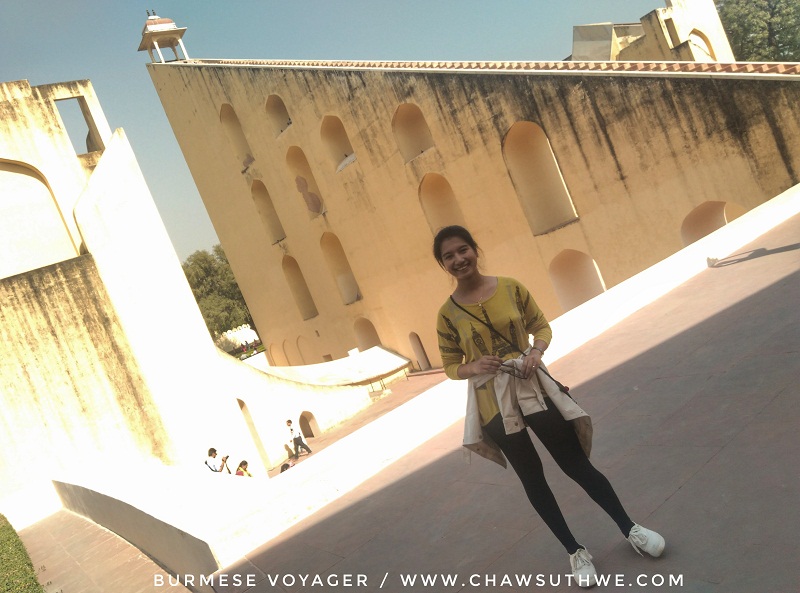 We headed to City Palace which was located nearby from Jantar Mantar. We had to buy its ticket separately as it was not included in the composite ticket.
City palace includes the Chandra Mahal and Mubarak Mahal palaces and other buildings. It was built 288 years ago by Sawai Jai Singh II. The palace complex lies in the heart of Jaipur city and it is closely linked with the history of Jaipur city and its rulers. Initially, the king ruled from his capital at Amber and later shifted his capital from Amber to Jaipur in 1727 because of an increase in population and increasing water shortage.
As we passed the richly decorated gateway of the palace, the first building we saw was 'Mubarak Mahal' (meaning – 'Auspicious Palace'). The building was built with a fusion of the Islamic, Rajput and European architectural styles in the late 19th century as a reception center.
Now 'Mubarak Mahal' houses a museum that displays a fine repository of different textiles such as royal formal costumes, block prints, embroidered shawls, pajamas and royal family dresses. A noteworthy display is the set of voluminous clothes worn by Sawai Madho Singh I who was 3.9 feet wide and weighed 250 kg but interestingly had 108 wives.
After this, we headed to the most commanding building in the city palace 'Chandra Mahal'. It is a seven-storey building and only the ground floor is opened for visitors where a museum is located that displays carpets, manuscripts and other items that belonged to the royal family.
The inner courtyard ofChandra Mahal is called 'Pritam Niwas Chowk'. There are four small gates that are decorated with themes representing the four seasons and Hindu Gods. The gates are the Northeast peacock gate decorated with motifs of peacocks on the doorway representing the autumn and dedicated Lord Vishnu; the Southeast Lotus gate decorated with continual flower and petal pattern suggesting of summer season and dedicated to Lord Shiva; the Northwest green gate suggested of spring and dedicated to Lord Ganesha and lastly the Rose gate with repeated flower pattern representing winter season and dedicated to Goddess Devi. The marvelous gates are very attractive and everybody kept gazing at their beauty.
Hall of Public Audience located in the center, is a marble floored chamber. On displays are two huge sterling silver vessels of 1.6 meters height and each with the capacity of 4000 litres and weighing 340 kg. They were made from 14,000 melted silver coins without soldering. They hold the Guinness World Record as the world's largest sterling silver vessels.
Hall of Private Audience is an enchanting chamber with the ceiling painted in rich red and gold colors. The richly decorated ceiling still looks vibrant and is a major attraction in the Mubarak Mahal courtyard. After this, we went to an art and craft workshop located within the premise, where one can see live miniature paintings, other paintings, antique collection of jewelries and textiles. There was an art gallery that displayed various portrait pictures of royal family members, pictures of ancient commoners, old camera accessories and paintings.
City palace is the greatest example of glorious architecture of Jaipur the Pink City that renowned across the world.
As it was evening after coming out from City Palace, we skipped entering Albert hall museum. It is the oldest state museum that has a rich collection of artifacts including paintings, carpets, ivory, stone, metal sculptures and works in crystal. Albert Hall Museum looks beautiful from outside too, with a lot of pigeons flying around it. We made sure to take many pictures outside Albert Hall.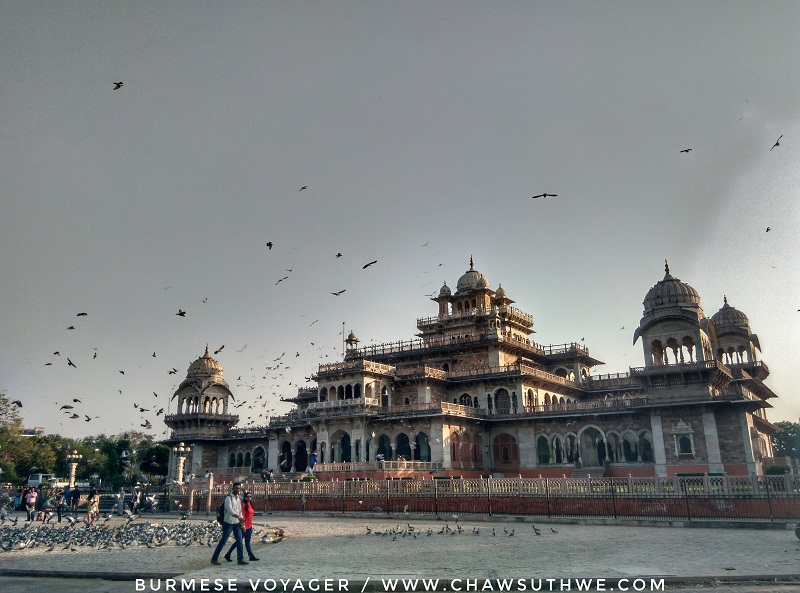 Goodbye to Jaipur
Jaipur, the pink city, showed us its finest, exotic, intoxicating and fascinating architecture, astrology, forts, monuments, palaces, art, craft and culture. We always worry about hot weather in the desert state, but fortunately our weekend went perfectly in Jaipur, thanks to the cool breeze and warm sunshine of winter.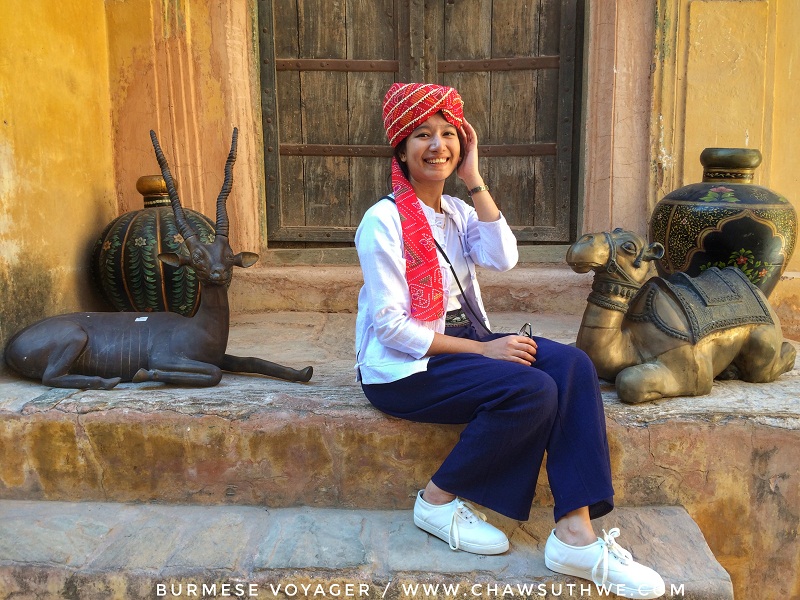 We returned back to Delhi while gazing at the sunset in Aravalli hills. Our wonderful and evocative road trip to Jaipur had ended with loads of pleasure. This Pink city gave us the great view into the grand history of the place. I hope that Jaipur continues its 'Pink' glory of welcoming all visitors with a warm heart, royal hospitality and its own Rajasthani characteristics.
---