( ျမန္မာဘာသာ )
New Delhi is a cosmopolitan city with a multi-ethnic and multi-cultural population. It's also the center of the Indian bureaucracy and political system.
India is famous for her several amazing architectural buildings and historic sites, and Delhi is also home to a lot of old traditional and cultural sites to wonder.
Delhi has a very high population and you can see big crowds everywhere, with colorful people who seem very busy with their lives. It's kind of interesting to see their lifestyles, their struggle of living in this bustling city.
A harmonic city where people from different cultures and religions stay together in a friendly and peaceful manner. Delhi is always welcoming and attracting visitors with different interests.
Delhi has an extreme climate. It is usually very hot in the whole year (except in Winter,December-January). If you are coming to visit in Summer, please carry umbrella, hat, long sleeve comfortable clothes, sunshades,etc to cover from direct sun light. And always bring water bottle to keep you hydrated.
There are several spots to visit in and around Delhi; I have listed some places here (out of the places that I have been) that you must visit when you are in Delhi.
---
Lotus Temple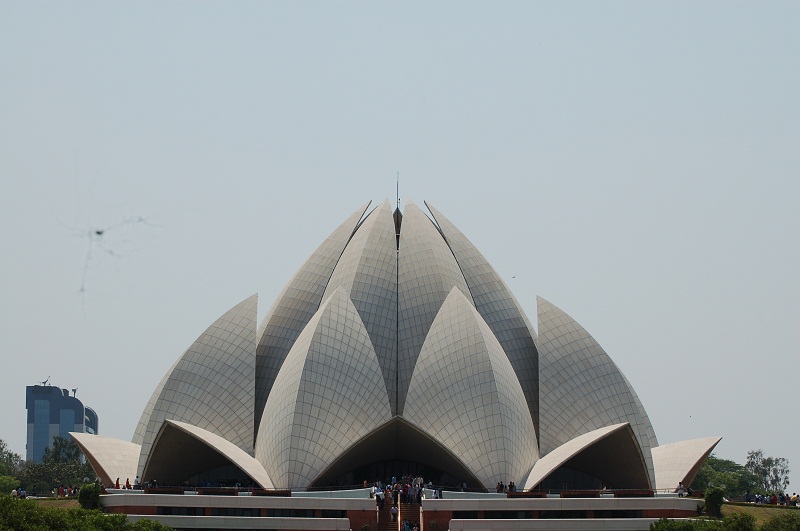 Lotus Temple is a lotus like white building that is amazingly beautiful. This building, a Bahá'í House of Worship, is open to all regardless of religion, nationality, race or gender. (Bahá'í is a religion)
Lotus Temple is built of Greek white marble in the shape of a Lotus flower surrounded by nine ponds of water adding to that lotus shape when viewed from the top. There are nine doors of the Lotus Temple which open onto a central hall that has the capacity of holding up to 2,500 people. Sunlight filters through the inner folds of the Lotus and diffuses through the entire hall of the temple; functioning as a skylight, thus no external lighting is required. The temple and surrounding gardens are spread over an area of 26 acres.
The lotus temple has won numerous architectural awards and has been as one of the most visited buildings in the world.
Lotus temple is a must visit place in Delhi because of the exotic architecture. It's an excellent place to find peace and tranquility.
Tips by Chaw
It's a place for silent prayer and meditation for people of all religious backgrounds. So, please do not make noise there.

Reading non-scriptural text, delivering sermons or lectures, fundraising and playing musical instrument is forbidden.

Please do not leave the Prayer hall when their prayers are going on. Prayers timings are 10 AM, 12 PM, 3 PM and 5 PM.

No entry fees required for both locals and foreigners.
Akshardham Temple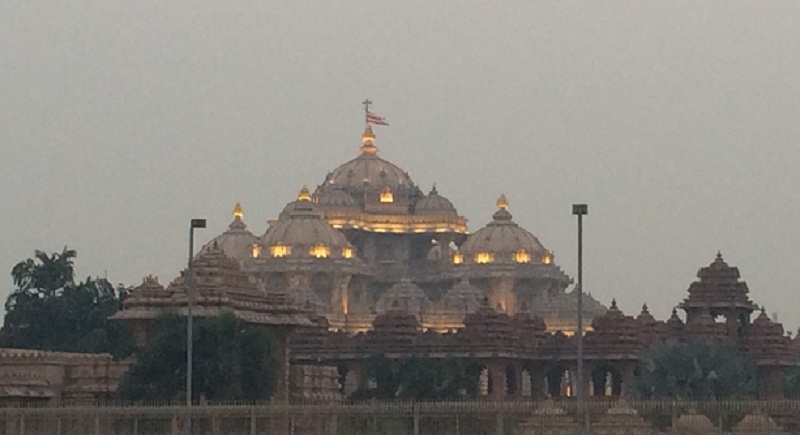 Swarminarayan Akshardham complex is a Hindu mandir (temple) with exceptional architecture. The entire mandir is constructed with Rajasthani Pink sandstone and Italian Carrara Marble. It has no support from steel or concrete and it's built as per traditional Hindu architectural guidelines.
The whole building is intricately carved with flora, fauna, dancers, musicians and deities. There are many carvings around the platform of the temple consisting of various scenes from mythological stories. Statue of Swaminarayan lies under central dome to whom the temple is dedicated to.
Additional attraction for the place is evening Water show. Water Show is a beautiful presentation of synchronized lights, sounds and water fountains. The whole presentation is set around a story line with the characters of the story being projected on the building itself. The story is entertaining and engaging. The overall show leaves the audiences awestruck.  
Akshardham temple was added in Guinness World Record as the "World's Largest Comprehensive Hindu Temple". Overall this place is great for people who appreciate architecture and for people who are looking for a great evening outing.
Tips by Chaw
No entry fees needed.

No cell phone, no camera allowed. It's advisable to keep your belongings in your vehicles or in the lockers outside of the temple.

Musical Fountain or water show is a must watch. It's around 30 min long and should be enjoyed with friends and families.

Timing > 6:30 PM or 7:00 PM (Please note that timings will change as per season or sunset) – Price > INR 80 per adult and INR 50 per child

Temple is open all days of the week (except Monday), from 10 AM to 8 PM. Ticket counter close at 6 PM.
India Gate
India gate is a war memorial in central Delhi and is shaped like a huge gate. There are lush gardens and fountains surrounding the gate which attract both tourists and locals. It has been built in the memory of the Indian Soldiers and British Soldiers who died in the First World War and the Third Anglo-Afgan War. The monument has names of martyred soldiers inscribed on its surface.
India gate is facing with the president house (Rashtrapati Bhavan) and it's connected by a road called Rajpath. The gardens, the gate and Rajpath are very popular with visitors. Rajpath is known for the march past of the Republic Day Parade on 26th Jan annually.
Under the India gate, there are four flames burning on the black marble platform. It's called Amar Jawan Jyoti or the flame of the immortal solider. It has served as India's Tomb of Unknown Soldiers since it's installation in 1971.
India Gate has become as the symbol of Delhi and it's an essential part of every tourist's itinerary. The whole area turns into a lively picnic spot for locals in the evening, and on the weekends one can find many groups of youngsters playing cricket in the gardens.
Tips by Chaw
If you want better pictures or if you don't like crowd, go on weekdays or in early morning.

Spend the time by walking around in the nearby gardens and on the Rajpath.

Finding car parking nearby might be a challenge, so please try to use local transport like Taxi or three wheelers.
---
Part II > coming soon