( ျမန္မာဘာသာ )
Around the end of winter and starting of summer, on my second day in India, I visited one of the world's most famous landmarks and symbol of India "The Taj Mahal".
I was asleep on the way to Agra from Delhi because I was so tired of 5 hours flight from Myanmar to Delhi.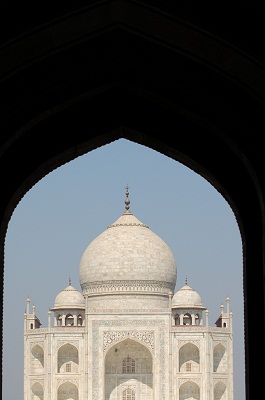 Taj Mahal is located on the banks of Yamuna River in the North India City Agra and it took 4hours drive from Delhi to reach there.
Before going directly to Taj Mahal, I went to my acquaintance home for a short visit in Agra. My very friendly acquaintance couple served me with Potato Cutlet and Tea. Potato Cutlet was very simple yet tasty without any stuffing inside. North Indian Tea is made with plenty of milk and less sugar. It's kind of too watery for me who is used to drinking Myanmar Tea every day. I added two more spoons of sugar then the taste became nice for me.
While having breakfast, during our chit chat, I got to know that Agra's famous sweet is called Petha, and that the same sweet is available in Myanmar called Pha-Yo-Yo (made from White Pumpkin). After saying Good Bye to my acquaintance couple, I left for Taj Mahal. The climate of Agra is semi-arid climate that includes mild winters, hot and dry summers and moderate monsoon. Agra's hot and dry weather is very similar to Central Myanmar Region Weather (we called ANyar-Region in Burmese). Agra welcomed me with a dusty charm and hot breeze and the trees were exactly similar to the trees from Central Myanmar. On the first day in India, I who came from wettest lowland tropical region (My Native Dawei-southern part of Myanmar), experienced for the first time the extreme hot and dry weather that made me uncomfortable and dripping sweat heavily.
On the way to the gate of Taj Mahal, I saw a crowd of visitors including both foreigners and locals. There are three gates for entering into Taj Mahal, the eastern Gate, the Western Gate and the Southern Gate. For entry fees, it cost 1,000 Rupees for foreigners (that is around twenty thousand Myanmar kayts) and 40 Rupees for locals (that is around eight hundred Myanmar Kyats). The Southern gate is the main entrance gate of Taj Mahal from which you can see Taj Mahal front view. I also entered from southern gate by joining a long queue of visitors.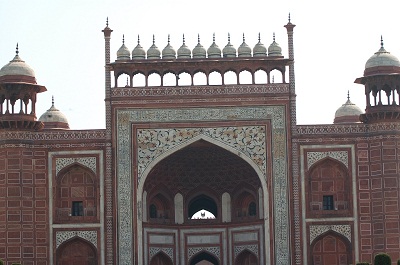 After entering southern gate, the first thing you will see is the main entrance to the tomb (the Great gate) that is a part of red sandstone boundary wall. The great gate is a structure built with red sandstone and the vaulted ceilings and walls have elaborate geometric designs. After wandering around this great gate, I entered Taj complex which includes a mosque, a guest house, a huge garden surrounded on three sides by the boundary wall, a marble water tank with a reflecting pool and the tomb Taj Mahal itself.
India's iconic symbol, the famous mausoleum "The Taj Mahal" was built in between 16th century and 17th century by King Shah Jahan (the fifth Mughal Emperor). The period of his reign (1628 to 1658) was considered the golden age of Mughal Architecture. Shah Jahan erected many monuments, the best known one is The Taj Mahal. Taj Mahal is a tomb that took about 20 years to build for his beloved wife Mumtaz Mahal. Mumtaz Mahal (Persian: the chosen one of the palace) was the second wife of King Shah Jahan out of four wives. They met in their youth and they engaged when they were about 14 and 15 respectively. Five years later they got married and the queen Mumtaz Mahal was his favorite and there was genuine love between them.
During their 17 years of marriage, Mumtaz Mahal bore him fourteen children and she died at aged of 37 (At 1631) while giving birth to their last child. Shah Jahan was paralyzed by grief of his beloved wife passing away. Her death had a profound impact on Shah Jahan's personality and inspired the construction of the Taj Mahal starting at 1632.  

The Taj Mahal means crown of the palace in Persian. It's an ivory-white marble mausoleum. The tomb is the centerpiece of a 42 acre complex which includes a mosque, a guest house, a garden and a pool. Construction of the Taj took more than 20 years with an estimated cost around US$ 827 million. Taj Mahal was constructed using materials from all over India and Asia such as Tibet, Afghanistan, Sri Lanka and Arabia. It is believed that over 1,000 elephants were used to transport building materials. Taj Mahal has pretty amazing architecture that was made by more than 20,000 artisans.
(It's a rumor that the King cut off all artisans, various architects and craftsmen's hands so that they could not build another similar one)
The tomb is the central focus of the entire complex of the Taj Mahal. The two graves that we see in the main chamber are not actual graves of Mumtaz Mahal and Shah Jahan, the actual graves are at a lower level that visitors can't go and see. The two graves are on the marble square plinth.
The most spectacular feature is the marble dome that surmounts the tomb. The dome is nearly 115 feet high and emphasized with four smaller domes (23 feet high each) placed at its corners. Because of its shape, the dome is called an Onion dome or Guava dome. The top is decorated with a lotus design. The dome is topped by a moon which is a mix of traditional Persian and Hindustani decorative elements. Four Minarets which are each more than 130 feet tall stand in four corners of tomb that provide more visual emphasis to this mausoleum.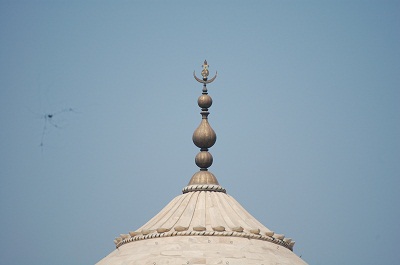 The exterior and interior decorations of the Taj Mahal are among the finest in Mughal architecture and are very wonderful. Incised Painting, Stone Sculptures, Carving, Calligraphy of Persian Poems, plant motifs, reflective tiles, marble jali lattice, flowers carved in marble and finial floor tiling, are totally amazing.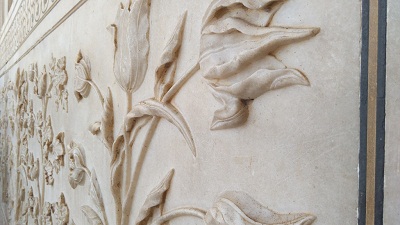 Taj Mahal construction was started in 1632 and completed in 1652. In 1658, Shah Jahan felt ill and his eldest son assumed that the role of regent in his father's stead, which caused the conflict with other younger brothers. The third son and other brothers defeated eldest son during a battle. Although Shan Jahan fully recovered from his illness, the third son put him under house arrest in Agra Fort. Sadly he was allowed to watch his beloved wife's tomb from far away through a window in his room. Shah Jahan also wanted to build another 'Black Taj Mahal' across the Yamuna River made of black marble but could not because of house arrest.
After 8 years of confinement, he passed away at the age of 74. The third son did not allow to do state funeral and didn't even build a tomb for his father. The body was taken via Yamuna River to the Taj mahal and was interred there next to the body of his beloved wife Mumtaz Mahal.
Taj Mahal, a combination of Persian, Islamic and Indian architecture is the best example of Mughal Architecture. Taj Mahal was designated as UNESCO world heritage site in 1983 for being the jewel of Muslim art in India and one of universally admired masterpieces in the world's heritage. It was declared a winner of the New7Wonders of the World in 2007. Taj Mahal attracts 7 to 8 million visitors per year.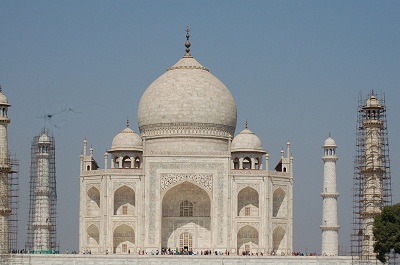 My way back to Delhi was full with thoughts about Mughal Architectural history, the masterpiece tomb, the king's love for his wife leading to the construction of the unrivalled Taj Mahal and the king's heartbroken last days spent gazing his wife's tomb from a distant jail cell.  
The sentimental tale of Taj Mahal will last forever as the Symbol of Love.
Travel Tips by Chaw
Book Taxi from Delhi to Agra and Return

Check weather and wear suitable clothes

Visit Taj Mahal View Point to get better pictures

If you have time, visit Agra Fort and Fatehpur Sikri

People who like to explore new food, you should try Petha from Panchhi Brand

If you want to stay overnight, find the place with Taj view
*Comment below if you need more information, I will try to provide to the best of my ability.