Old Delhi Food
As we turn around the corner from spice market to Chandni Chowk, adjacent to the 17th century Fatehpur Mosque's gateway, we found 'Chainaram's' – a sweet shop founded in 1901. The delicious aroma of the sweets was very inviting. A lot of customers were queuing in front of the shop and there was no doubt that the shop is famous. Different types of sweets were displayed on the shelves. Although my heart wanted to eat all but my stomach advised me to have only their famous 'balushahi'. It's a crunchy deep-fried sweet made of flour and soaked in sugar syrup. The taste was fantastic and their claim of "All Preparation in pure Desi Ghee" was evidently true.
The moonlight square or Chandni Chowk extends all the way up to Red Fort. On both sides of the wide Chandni Chowk are historical residential areas flanked by narrow lanes. The road is filled with jewelry shops, spice shops, garment stores, electronic shops, junk food shops and it's a heaven for shopaholics.
We walk less than 10 minutes to our next destination; 'Tewari Brothers' whose hot stuffed kanchoris served with tangy sauces are very famous. The shop was overcrowded so we decided to skip it and go further down to 'Haldiram's'. The Chandni Chowk outlet of Haldiram's was started in 1920s. People were picking up big bags of famous hygienically packed snacks and a lot of people were also enjoying food in seating area. Since we had walked a lot and were thirsty, we decided to have kulfi and kulfi faluda. The refreshing Kulfi filled our stomach and the sweetness provided the much needed boost to our energy levels.
After walking out a few minutes from Haldiram's, we found a Jain public library 'Shri mahavir' founded in 1924. It had an open big door heading towards this library where five to six people were reading quietly.
We carried on further down and found the 'Old Famous Jalebi Wala' on the other side of the road. The man at the shop was busy in making Jalebis which are golden colored layers of rings made of deep fried batter; soaked in sugar syrup. Since we just had kulfis, we didn't try it.
In the lane next to the Jalebi Wala, one will find a lot of jewelry shops and trophy making shops. Crossing this lane will take one to the famous mosque 'Jama Masjid'.
---
Jama Masjid Mosque
It was almost sunset when we reached there and we entered from the southern gate (out of three gates). The southern side has 33 steps towards the mosque and this mosque is one of the largest mosques in India.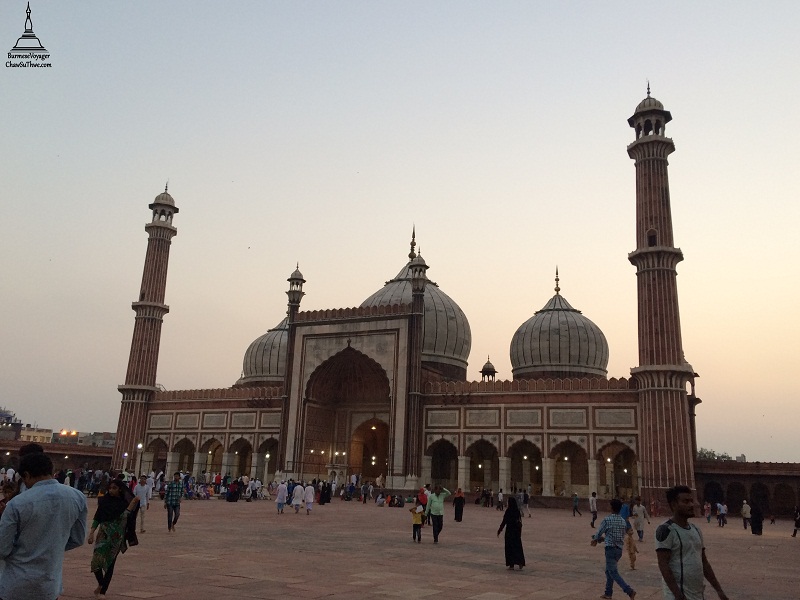 Jama Masjid was built by Mughal Emperor Shah Jahan and was completed in 1656. Shan Jahan is the same person who had also built Taj Mahal. The city's beating heart, Jama Masjid Mosque, has a capacity to accommodate more than 25,000 persons. The mosque has three gates, four towers and two 40m high minarets. This Islamic architectural style mosque was constructed with red sandstone and white marble.
Because the evening prayer was about to start, one guard refused to let us inside. But another guard said that we can just go in for a few minutes and quickly come out. One has to take off shoes outside the mosque and we had to pay 300 INR for the camera. The guard took us around the courtyard of the mosque and showed us some good spots to take nice pictures of the mosque. After clicking a few pictures and looking around the courtyard and the building, the guard asked us to go out saying that the prayer was about to start. We had to pay extra 50 INR to him for guiding us.
Even though we couldn't go inside the mosque building to look at the architectural details, the view from courtyard was pretty awesome and beautiful in sunset.
After coming out from the Mosque, it was almost night and we decided to have dinner nearby. Here outside of this mosque, one can gets delicious non-vegetarian food like the famous kebabs.
We headed towards Karim's as suggested by all guidebooks. It's a historic restaurant established in 1913 and famous for its kebabs and Nann breads. We tried chicken kebabs and the taste was wonderful. We were still kind of hungry so we decided to go to the Paratha (fried Indian breads) lane.
We found a Bollywood themed rickshaw. Although we were tired due to walking in the humid weather, this musical rickshaw with interestingly dressed driver cheered up our mood. Everybody was looking at our rickshaw because of the loud music and the Bollywood actor style dressed driver. We were having fun on the rickshaw while riding toward the Paratha lane.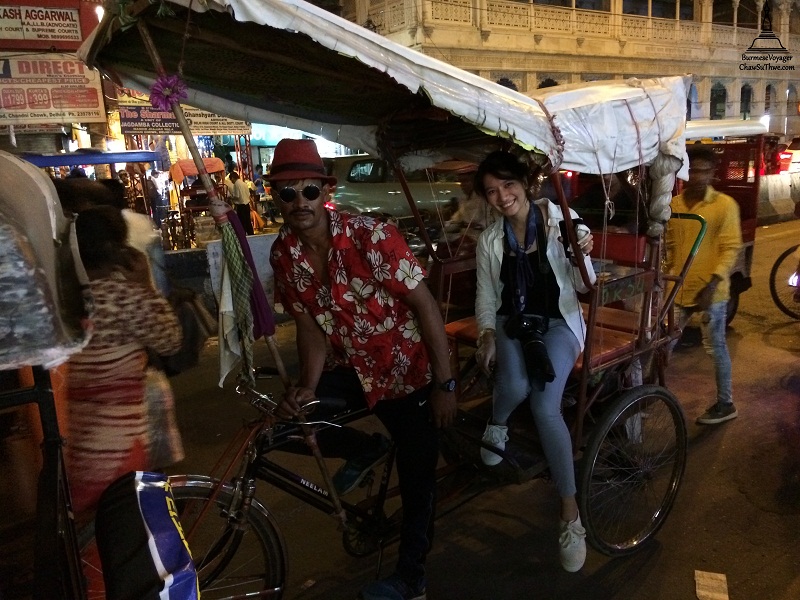 The famous 'ParatheWali Gali' (Paratha lane) is an alley and has a series of shops inside, offering different types of parathas. Parathe Wali Gali is mentioned in all national and international food guides, and we looked for one of the old renowned shop. The smell of fries was spread across this small lane which was overcrowded with people who came to enjoy a special dinner.
We stopped at 'Gaya Prasad Shivcharan's' which was established in 1872. A lot of people were queuing to get a seat there and we also waited for a few minutes. The shop space is pretty small and can't accommodate too many people. One has to sit in a squeezed manner and have food.
There are 25 different fillings that one can choose from, such as cauliflower, aaloo, peas, banana, rabri, dry fruits, etc. Their parathas are deep-fried, thin and crispy. Minimum two parathas are mandatory to order per plate. I chose layer paratha and banana paratha whereas my travel partner chose peas paratha and rabri paratha. They served parathas with five vegetable side items and pickle. My personal favourite one was banana paratha. We tried a lassi also and the taste was lip-smacking. After having such a nice meal, the only thing we could think of is to go back home and sleep.
---
Some people might find these bustling parts of old delhi a little confusing to navigate through, but we thought that it was a very nice experience. Although we had sumptuous amount of delicious food, I am sure we didn't get Delhi belly because of so much walking around and burning calories. Our half-day trip to old Delhi felt great both for the mind and the tummy. Old Delhi is a great place for shopaholics and foodies.
---