On the first day of October, me and my travel partner decided to experience our very first bird watching at Keoladeo National Park (Bharatpur Bird sanctuary, Rajastan). Bird watching was a good way to escape from the hustle bustle of daily Delhi life. We carried a DSLR with a telephoto lens so that we could capture wildlife at a distance.  We started from Agra in the early morning loaded with two bottles of water, cookie packs and some fruits. After driving for one hour, we reached the bird sanctuary around 8 am.
About Keoladeo National Park
This bird sanctuary hosts thousands of birds of over 230 species. It's a man-made and man-managed wetland and one of the national parks of India. The 29 square km wide park is a mosaic of dry grasslands, woodlands, swamps and wetlands. Earlier it was primarily used as a waterfowl hunting ground and was declared a protected sanctuary in 1971. These diverse habitats are home to 366 bird species, 379 floral species, 50 species of fish, 13 species of snakes, 5 species of lizards, 7 amphibian species, 7 turtle species and a variety of other invertebrates. Every year thousands of migratory waterfowl visit the park for wintering and breeding. The sanctuary is one of the richest bird areas in the world and is known for nesting resident birds and visiting migratory birds including water birds. The sanctuary was created 250 years ago and is also a world heritage site.
Getting around!
An entry ticket for Foreigner is 500 INR and Indian is 75 INR. The park is open from sunrise to sunset.
Private vehicles are not allowed inside the sanctuary so one has to park their car in the parking. There are several ways to go around in the park, namely, 'rent a bicycle', 'hire a rickshaw', 'rent a horse-cart', 'take an E-vehicle' or the adventurous people can consider walking themselves.
We rented two bicycles, at a rate of 25 INR per bicycle per day. Some bicycles were not in good condition and because of crowd the bicycles got over fast. English speaking guides were also available near the ticket counter. We didn't hire a guide and started on our own.
What we experienced!
As soon as we entered into the heaven of birds, we heard the pleasant sounds and calls of birds. The long straight road is heading toward inside of the park. The tranquility and serenity of the sanctuary took us in a completely different world with melodies of birds chirping, whistling, flipping and all other sounds that made us feel lost in a world of dreams. It seemed that the rickshaw pullers and the horse-cart drivers had good knowledge of the various species of birds as we saw them explaining it to their customers.
My bicycle was not in a very good condition and it felt like I was pushing it. We stopped at a bench for our breakfast and had some bananas for boosting our energy level. Around 9 am, the weather got warmer and hotter but we still wore our long sleeves to be covered from sunlight.
"Hey, you see that?", I stopped my buddy to look at somewhere. "Something?", he asked. "Yeah, baby owl", I said. We spotted two baby owls who looked sleepy, on the top of a tree. They looked too cute for us and we were so happy to see them at the beginning of our tour.
The path through the jungle was through the middle of a marshy land, with water and shrubs on both sides till our eyes could see.  A lot of big termite mounds could be found on both side of the road. Birds nestling, feeding and growing could be sighted on the tree tops, in tall grasses and in the bushes. Common parakeets are everywhere in the park. They looked very beautiful and were very talkative compared to other birds. The dried out trees in the water bodies were like platforms for the fishing birds to dry their feathers and wings, and also to wait for fishes to come closer for catching.
We parked our bicycles by the roadside and walked into the bushes to watch some birds. We found a group of Quail were talking each other or fighting on the ground and also a group of Partridge which quickly hide inside the bushes when they saw us. We spotted our first peacock which ran away quickly even before we could take a picture. A mongoose also crossed in front of us and hid in the bushes.
We also spotted kingfishers and woodpeckers. Parrots, doves, neelkanths and migratory waterfowls were visible often to every visitor. The view is breathtaking and delightful for sure.
Migrant ducks, storks, snake birds, painted storks, cranes, colored beak duck, herons, darters, Indian Saurus cranes, Indian Shags, great cormorant and wood sandpiper were also there.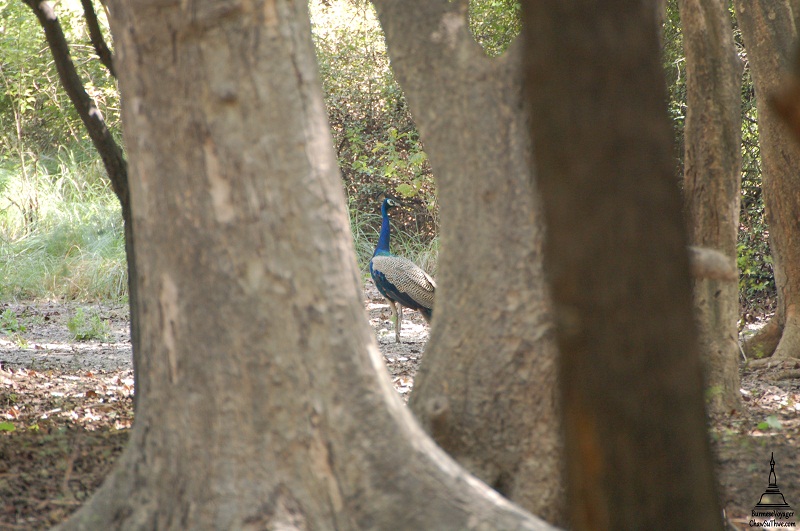 Mammalian faunas were also spotted in this park such as Sambar, Nilgai and Chital deer.
There are many other species known to be in the park which we didn't spot that day, like fish fauna, lizard species, snake species and species of amphibians.
Watching birds in its natural habitat has its own pleasure. Every nature lover in the park seemed to be enjoying it and trying to capture the moments in their equipment.
We slowly rode our bikes and whispered (so not to scare away the birds) to each other when we spotted the animals and birds. Thanks to our camera which helped us in spotting and capturing these.
The long path way ended at a jungle canteen which had some snacks and refreshments.  After relaxing there for some time, we started to return back towards the main gate around afternoon. Weather was extremely hot by that time even the trees were finding difficult to protect us.  Some people were still coming in on with their cameras, tripods, lenses and telescopes.
Sunlight and hot weather made us exhausted so we stopped very often on our way back. Luckily we spotted a Bengal Fox who was trying to attack a peacock. It was an interesting view of the wild nature of these animals. We found a bench with a dense tree cover and I also took a 20 minute nap on it, to regain my energy, while my buddy kept taking pictures.  After taking many breaks on the way, we reached back to the main gate and returned our bikes. We had our heavy lunch at a restaurant on the way back to Agra.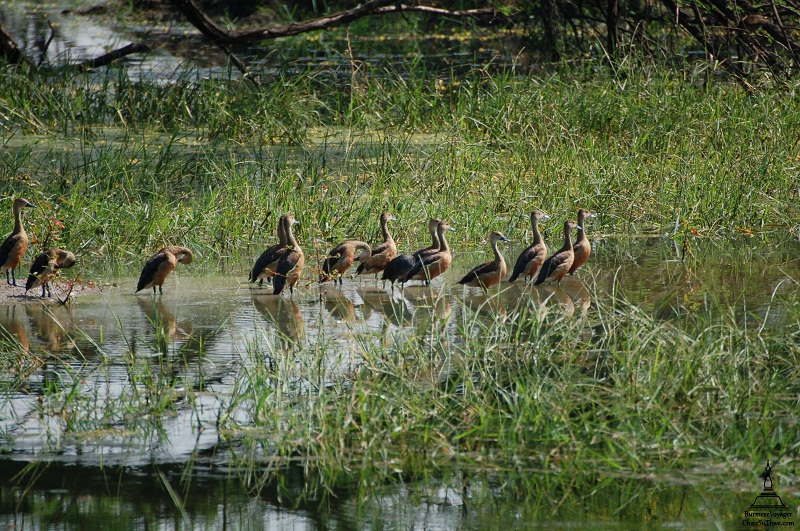 A day spent in Keoladeo bird sanctuary was totally awesome, and I am glad that our bird watching experience in the lap of nature was filled with musical sounds of birds. The calm and quietness was a welcome break from the city life.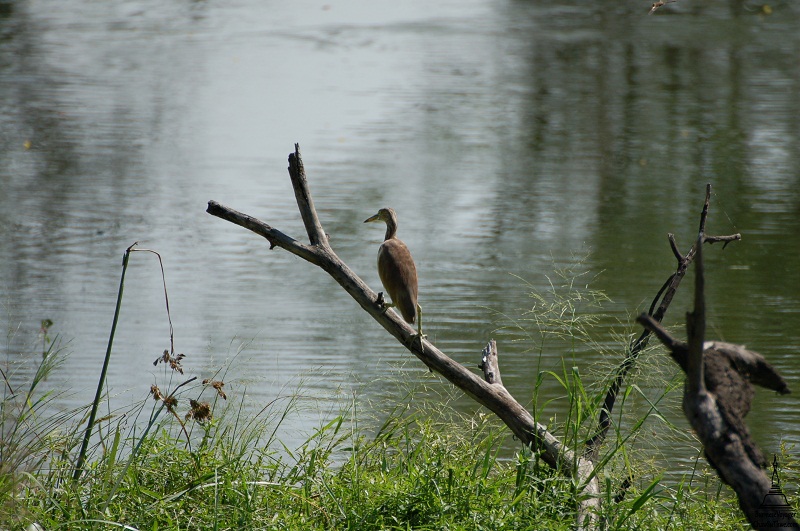 Tips by Chaw
You can combine Bharatpur visit with the visit to Agra or Mathura.
Do not litter inside the bird sanctuary.
Bring enough water and food to keep you hydrated and energetic.
Try to reach early in the morning to get better bicycles and to avoid afternoon heat.
Wear comfortable cotton clothes.
Best time visit is from October to March


---