မႏၱေလးကအထင္ကရေနရာေတြကို တစ္ရက္တည္းနဲ႔ စုံေအာင္ေလ်ွာက္လည္ၾကည္႔ျခင္း။
Mandalay – The last royal capital of Myanmar
Mandalay is the second largest city and was the last royal capital of Myanmar. It's also the economic center of Upper Myanmar and considered the center of Burmese Culture.
Mandalay was founded by King Mindon in 1857. The city is famous for being as Burma's cultural and religious center of Buddhism.
Even though I have been to Mandalay many times for business purpose, this was the first time I went there as a backpacker to spend a memorable day there. This was a part of my travel to several Upper Myanmar cities (Mandalay, Kalaw, Aungpan, Pindaya, Inle and Taunngyi) with my travel partner. In advance we bought the bus tickets for 'Yangon to Manalay' and return ticket for 'Taunggyi to Yangon'. Rest of the trip was left to be unplanned and explorative.
Getting to Mandalay
Mandalay is reachable by air, river, rail or buses from Yangon.
One can buy bus tickets from different travel agents located near Hledan, Sule and Aung Mingalar highway bus station.
We took an Express Bus that left Aung Mingalar Highway bus station at around 10 PM and reached Mandalay around 6 AM.
Around the city
For going around Mandalay, one can either choose a hired Taxi for the whole day or book Tuk Tuk named Mini Oway. The local taxi driver that I hired was very good and had an excellent knowledge about various places. He patiently explained a lot of historical and cultural context and we had very interesting conversations.
Cityscape
We kicked off the day with Mandalay most famous breakfast, Mont-di and royal breakfast, Kha-No-htaupt at a local restaurant. Mandalay Mont-di is like large rice noodle salad with meat, flavored with daal flour and oil. Kha-No-htaupt is a kind of egg and flour roll stuffed with cabbage and meat. These were super delicious and we felt energized to start our day.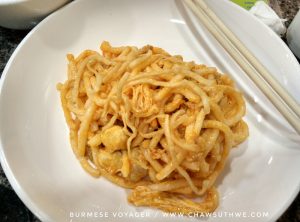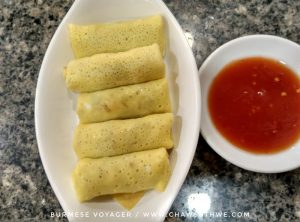 Mandalay Hill / အသက္ကေလးရယ္တဲ႔ရွည္ေစလို မန္းေတာင္ရိပ္ကိုခို
We started our tour with 'Mandalay Hill', which is 230 m in elevation and has been a center of religious activities for a long time. Mandalay hill and nearby places are home to many of Mandalay's religious sites.
The traditional way to reach to the top is to take the stairs from the base of the hill or to walk on the winding hilly road. We, instead, took our taxi to the top using the same road.
The pagoda and the temple on the top were very beautiful. Colorful Mosaics around the temple building demonstrates the great Burmese artwork.
From the top, the view of the city and surrounding countryside is magnificent.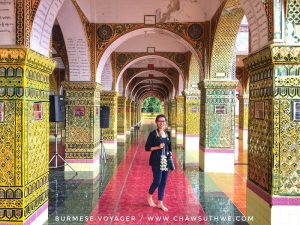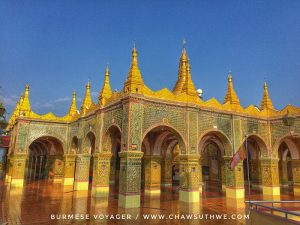 Sanda Muni Paya / စႏၵာမုနိဘုရား
It's located at the foot of Mandalay hill. Sanda Muni has a lot of white stupas and contains the world's largest iron Buddha Image. These white stupas looked beautiful with the green background of Mandalay hill.
Sanda Muni Paya is adjacent to our next stop, Kuthodaw Paya.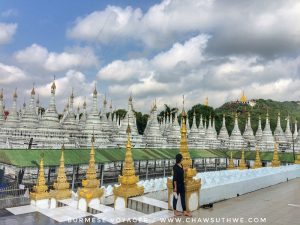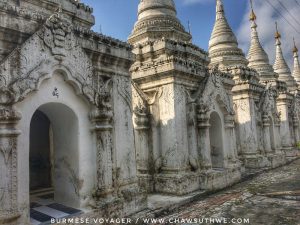 Kuthodaw Pagoda (The World's Largest Book) / ကုသိုလ္ေတာ္ဘုရား
Kuthodaw Paya is called the World's Largest Book and located at the foot of Mandalay hill. It was built by King Mindon in the 1800s. The complex contains 729 white stone slabs, which are inscribed with the entire text of the Tipitaka, Theravada Buddhism's most sacred text.
When one enters the pagoda, there is a huge teak wood door with beautiful carvings. After passing through, one can wear Thanaka (Burmese Traditional make-up) as its provided under Kha-Yay (Star-flower) Tree.
These white structures provide good opportunities and one can see a lot of locals girl with Burmese Traditional dresses taking photos there.
A well-known popular place, Kuthodaw Paya is famous for its stone scriptures and it's a UNESCO recognized world heritage site.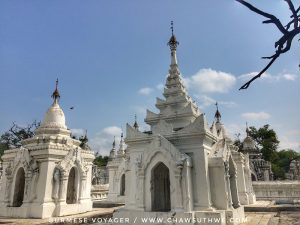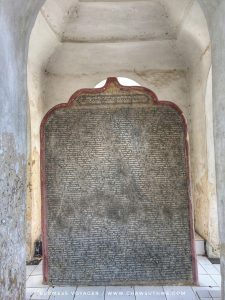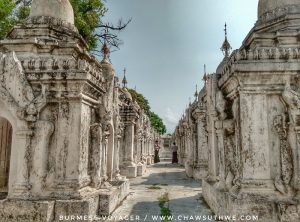 Shwenandaw Monastery / ေရႊေက်ာင္း
It's a monastery whose entire building is made out of teak wood decorated with beautiful carvings. It was a part of the old palace and was moved to its current site by King Thibaw in 1880. The old palace has been destroyed, but fortunately this beautiful building still stands proud of its heritage, telling us about the beauty of original royal palace.
Shwenandaw Monastery is famous for its very complicated and detailed wood carvings. Each carving in this monastery will definitely make one stop and admire its beauty.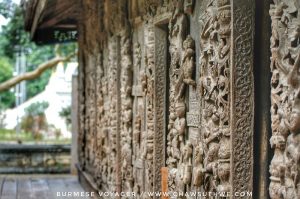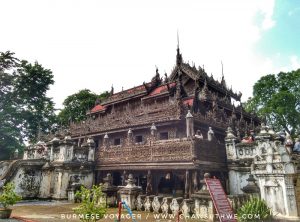 Mandalay Palace / က်ံဳးေဘး-နန္းျမိဳ႔ရိုး
The whole old palace complex was destroyed by a fire during World War II and a model of Mandalay palace was rebuilt. Nanmyint-saung and Mandalay Cultural Museum are located inside the palace grounds that we skipped to visit.
We visited outside of the palace to see the finely built walls, the city gates with crowning wooden pavilions and the surroundings moat. They all still remind one of the original grandeur of the Mandalay Palace.
Depends on which cuisine one wants to try, taxi driver will take one to some famous and delicious shops. We had authentic Burmese lunch with rice and various kinds of curries and side dishes. After having heavy lunch, we moved forward our day.
Maha Myat Muni Pagoda / မဟာျမတ္မုနိဘုရားၾကီး
It's Myanmar's second greatest pilgrimage site after Shwedagon Pagoda. It has 4 meter high Buddha statue in a sitting posture, made of gold and decorated with precious jewels.
It was built by King Bodawpaya in 1784 and brought from Rakhine State, it was also called the Great Rakhine Buddha. Early morning ritual of washing the face of Buddha image draws a large crowd of devotees every day and only men are allowed to approach the Mahamuni Buddha.
The passages leading to the pagoda are lined with shops that are selling Burmese Traditional toys, Wooden or mental sculptures of Buddha and different types of handmade products. I am crazy about Burmese toys and I usually collect as much as I can. I bought some Burmese musical toys.
A visit to Mandalay is not complete without visiting Mahamuni Pagoda.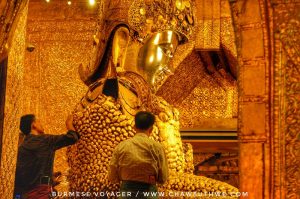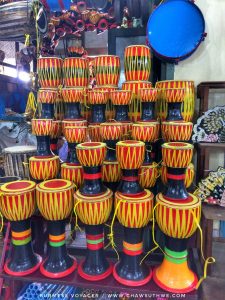 Shwe In Pin Monastery / ေရႊအင္ပင္ေက်ာင္း
There is a non-touristy lesser known monastery named Shwe In Pin Monastery. We just got to known when our taxi driver took us there. This place is not mentioned in any travel sites.
It's a wooden monastery with detailed carvings and it's little bit similar to Shwenandaw Monastery.
It's not allowed to go inside the monastery so just walk around the buildings and wonder the beautifully made wooden carvings.
Be quite there as monks' meditation process might be going on.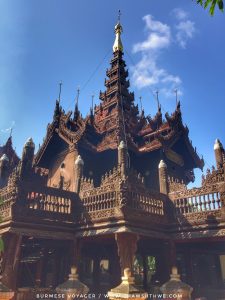 Maha Sandar Muni Pagoda / မဟာစႏၵာမုနိဘုရား
This pagoda is also non-touristy spot but there were many photography groups who are doing pre-wedding photo shoots. The white and golden pagoda is surrounded with the ruins of stupas and big trees. It's a photogenic spot where one can enjoy taking picture with huge trees. One can hire Burmese Traditional Umbrella at this spot if one wants to take picture with it.
There is a step well infront of the pagoda that locals claim to be connected with Ayeyarwady River. I have seen many step wells in India but this one in Mandalay is different in architecture.
This place offers us a peaceful and beautiful experience.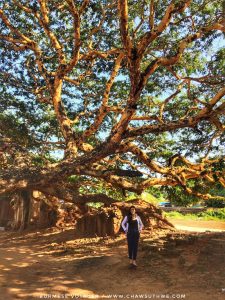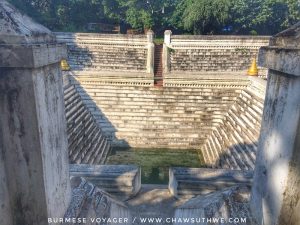 U Pain Bridge / ဦးပိန္တံတား
By the time we were done with the above places, it was evening time. We decided to watch sunset at U Pain Bridge as our last spot. It's a well-known place that is famous for its wooden foot bridge made out of teak wood.
It's a 3967 feet long bridge crossing over Taungthaman Lake near Amarapura. It is believed to be the oldest and longest teakwood bridge in the world. U Pain is the mayor name who had it built in 1849.
U Pain Bridge is the most beautiful spot in Mandalay to take picture with natural background. It's a tourist spot so some food shops and handicraft shops are on the passage way. It's a narrow bridge and sometimes gets crowded.
Walking on this unique bridge, enjoying the fresh breeze and the amazing scenery was totally awesome. Spotting fishermen who were busy with their work in the lake can give one a peek into the local lifestyle.
The bridge was built in curve shape in the middle to resist wind and water current. Many people do boating on the lake to watch sunset or for a fun ride. We walked till the end of the bridge and found some snack shops on the other side, serving fries and juices. There is a huge wooden harp there, which can be used as a photo spot.
We spent an hour to watch the sunset with the view of the bridge, the lake and the boats. It was the last spot in our Mandalay tour, and it was surely breathtaking.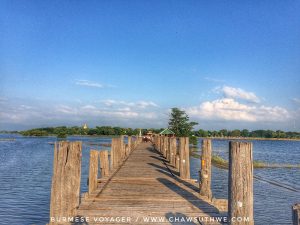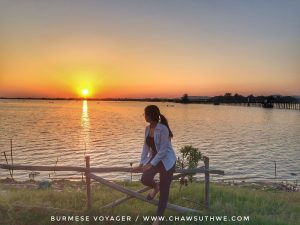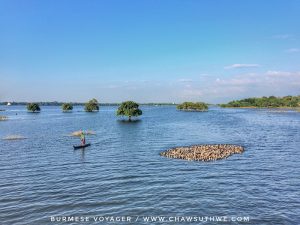 Mandalay, a city having historical sites, cultural memorials and Buddhist complexes stands as a rich historical landmark. This center of Myanmar culture was outstanding in the past, and it will continue to be a place of pride in the future. Come you back to Mandalay !!!!
We ended our Mandalay tour at around 8 pm, as we planned to head to Kalaw at 10 PM.
---
Stay tuned for Kalaw, Aungpan and Pindaya trip story.
Bonus: A song about Mandalay by Frank Sinatra https://www.youtube.com/watch?v=0Bs2_WxT9bI
Enjoy!!  <3