ရွမ္းျပည္ေရာက္တုန္းက စားခဲ႔သမ်ွ သိပ္အရသာေကာင္းလြန္းတဲ႔ ရွမ္းအစားအစာေတြ။ 
?
?
?
?
?
Every Asian country is known to have its own delicious cuisine but on looking carefully, one would find that within a country itself various regions and states have their own typical variations of cuisine.
Along the same lines, the Shan state of Myanmar has a distinct set of dishes which have been perfected over 100 of years by using the local products of the state.
Shan state is one of the most famous states in Myanmar. Its city of Kalaw for trekking, the Inle Lake is famous for floating villages and Taunggyi is famous for hot air balloon festival. In addition, several Shan dishes are also very popular, some of which I tried during my visit there.
Shan Noodles (Shan-Khow suey) / ရွမ္းေခါက္ဆြဲ
It's one of the most popular dishes in Myanmar and one can get it very easily in every tea shop and restaurant.
Shan noodles are served either as a soup or as a salad, with sautéed tomato and peanuts as topping. The noodles used for the soup are flat rice noodles and for the salad are round rice noodles. One can either choose vegetarian noodles or with shredded chicken.
It's very delicious with the taste of tanginess. Yummy!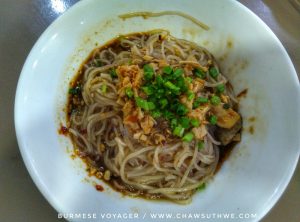 Chickpea tofu soup (Tofu Nway) / တိုဟူးေႏြး
The rich thick tofu soup or chickpea gravy noodle is prepared by mixing soft creamy tofu paste with rice noodles and served with garnishing like sesame seeds, garlic oil and spring onions.
Tofu nway is usually preferred for breakfast in Shan State but one can enjoy it at any time of the day. Due to the tofu paste, it is a filling and satisfying meal.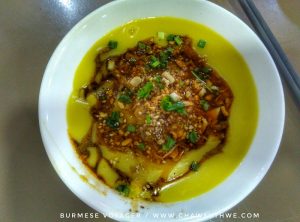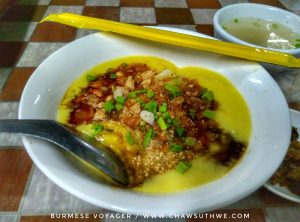 Shan Yellow Rice cake with tomato sauce (Shan-Htamin) / ရွမ္းထမင္းခ်ဥ္
It's made using steam Shan sticky rice with turmeric. It is usually served as a round cake, with a garnishing of sautéed tomato and fried garlic will be on top of the cake.
Variations of this dish are made by using different toppings like shredded chicken, dried chilly fried, coriander leaves and cloves of raw garlic.
This dish can be eaten either as a meal or as a snack.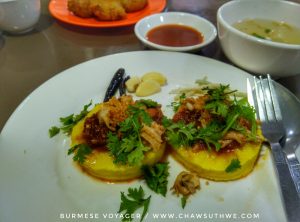 Shan fish rice (Nga-Htamin) / ငါးထမင္းနယ္
This dish is a mix of steamed Shan rice, shreds of cooked fish and garlic oil.  It served as a ball of the mix, with a topping of crispy fried noodle flakes, spring onions and fried dried chilly.
All Shan dishes are served with Monnyinchin (pickled mustard greens) on the side and a small bowl of soup.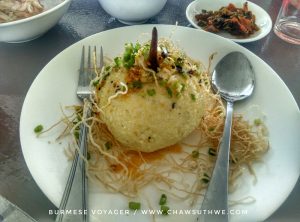 Meat ball noodles / အသားလံုးေခါက္ဆြဲ
It's a soup type noodle dish with different meat balls as per your choice. There are beef meat balls, chicken meat balls and pork meat balls. Although the noodle soup is a little bland in taste but the meat balls enhance the taste and make it super delicious.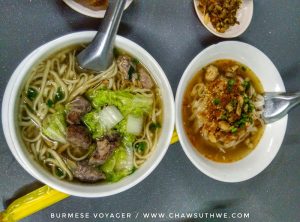 Shan state dishes are most commonly prepared with thin, flat rice noodles with chicken or pork, garnished with garlic oil and toasted dried chilly. They are served with a side of pickled vegetables.
If you are in Myanmar or in Shan State, don't forget to try these delicious dishes.
---