India is a country for explorers who are seeking culture, heritage, spirituality, mountains, beaches and unexplored natural beauty. As part of our exploration, this time we headed to 'Rishikesh', where the Ganges River comes down from the Himalayas.
The 5 hour road trip from Delhi to Rishikesh will keep one engaged while the landscape changes from the plains to green hills and mountains. En route we passed Haridwar- a holy city for Hindus where we spotted a lot of temples, ghats and sadhus. Millions of pilgrims, devotees and tourists come to Haridwar to bathe on the banks of river Ganges to wash away their sins. Among thousands of Shiva (Hindu God) shrines, a huge statue of standing Shiva is the iconic landmark of this religious city.
The river Ganga after flowing for 253 kilometers from its source enters into –Gangetic Plains of North India for the first time at Haridwar. The Ganga water looked very clean and one can spot the devotees who were bathing in the river at early morning. Rishikesh is upstream from Haridwar and is within the hills. The winding road from Haridwar goes uphill and passes through 'Rajaji National Park'. The drive through Rajaji National park was filled with views of blue sky and of sunshine filtering through the trees.
When we saw the long curvy Ganga River flowing by the road, we couldn't continue driving and took several stops to enjoy this breathtaking show of Emerald Ganga. While approaching Rishikesh via the hills, the view of that city, built on both side of Ganga looked beautiful with the backdrop of the hills.
Rishikesh – Day 1
It was around afternoon when we checked into our bunk stay at 'Tapovan' and freshened up. The hostel's walls were filled with messages, write ups and drawings made by past international travellers who had stayed there. We went to the roof top of our hostel to see the view of the city and to plan out our days. We nodded at each other in agreement about our hostel choice, as soon as we saw the amazing view of Ganga River, hills and temples from the roof top.
This city catapulted to fame when the 'Beatles' dropped by for a spiritual visit to one of the Ashrams here. Nowadays it's always teaming with tourists and backpackers. Rishikesh is known as 'the World Yoga Capital', 'Gateway to the Himalayas', and as a destination for many visitors searching for Yoga training courses or retreats, ashrams and meditation courses.
The famous bridge 'Lakshman Jhula' was visible from our hostel's roof top and was at a walking distance. Another bridge called 'Ram Jhula' is a little further away. Two bridges span across the vibrantly emerald Ganges that runs between the cliffs. The area where we were, Tapovan, is what visitors refer to as 'Rishikesh' although the actual Rishikesh town is a few miles away. Tapovan is quieter and it's a hub for people seeking solitude. After having a quick cup of tea on the hostel's roof top and after charting out our plan for the day, we started out on foot to explore Rishikesh.
We took a small lane of stairs that went down to the beating heart of the city, Lakshman Jhula. We found a temple filled with people praying and many sadhus standing nearby. The road was filled with cows going around. Cows are treated with sincere respect in Hinduism and people feed them regularly. Fluffy dogs were also running around the place looking for food, as this place had more chances of getting from the crowd. There were plenty of road side tea shops and many colorful beads shops which were selling different design of bead necklaces and bracelets.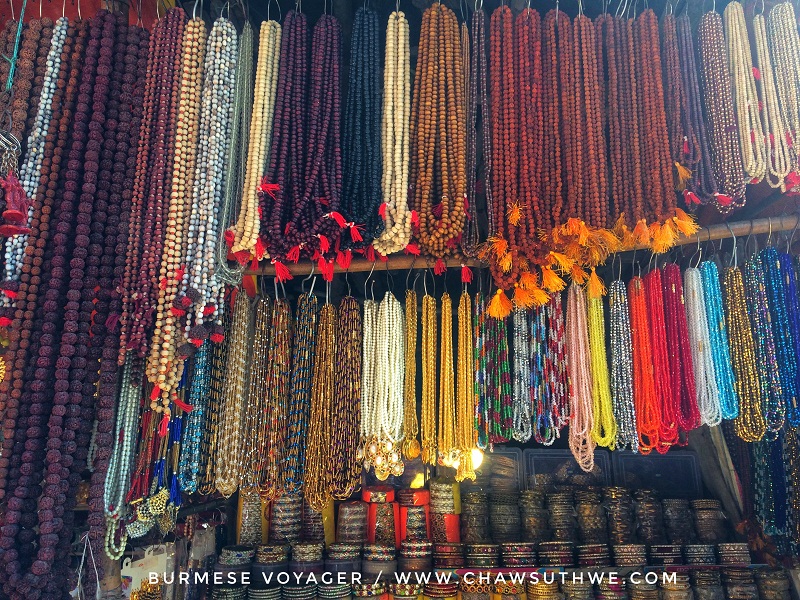 Lakshman Jhula Bridge
Being one of the iconic landmarks of Rishikesh, the bridge was crowded. The crowd comprised of people taking pictures, monkeys running around, slow moving cows and honking bikes. It's an iron suspension bridge across the river Ganges that connects two villages: Tapovan to Jonk. It's a 88 years old narrow bridge, standing very patiently and bravely over the Ganges, while thousands of people cross over. Monkeys kept trying to snatch food from people and it looked thrilling to evade them.
We could feel the bridge sway while we walk over this 450 feet long Lakshman Jhula. One could spot many groups of people doing rafting in the river. The view of the bridge, the river, and the city, all together looked very scenic and I suddenly felt in love with Rishikesh.
After spending a few minutes in the crowd near Lakshman Jhula, we walked in the lanes of Rishikesh towards a café for our lunch. The streets were filled with visitors carrying Yoga mats, saints and sadhus, and other people who were standing and witnessing the scenes of the city. We happily wandered around and reached to 'Little Buddha' Café. This funky tree house-style restaurant has a mid-sized top floor with tables overlooking the Ganges River. Their menu served only international vegetarian food as it is ordered by law (Holy Rishikesh is a sacred city in the Hindu belief and it follows pure vegetarian food habits). We luckily got front seats next to the railing towards the rivers and we ordered pancakes and fried rice.
Witnessing the flow of Ganges
The only thing to do while waiting for our food was to relax and to witness the river flow. The Ganges flowing in a tranquil manner gave an unknown energy to my soul. I couldn't stop staring at the fantastic frame of the Ganges, the hills and the blue sky, all together. Café was filled with backpackers and travellers. Their chatting felt like ambient sounds to which one get used to while enjoying the view.
The holiest River, Ganges, perpetually runs thousands of miles from its source Himalayan Ranges, and witnessing it gave me peace of mind. The ultimate view of Lakshman Jhula Bridge, people practicing Yoga at the banks and rafting people on the river could be seen from our seats. The food was just ok and I didn't enjoy it much, but the view was excellent.
We took a shared jeep to go our next stop, another famous bridge, Ram Jhula. The jeep charged us 10 Rupees per head and it dropped us in front of a small lane near Ram Jhula.
We started walking in the lane and found many cows there, who were intentionally blocking the lanes. It seemed that they had found this new method of asking food from the tourists. Many people fed the cows as they are considered sacred animal.
On the way down to Ram Jhula, we found a very interesting restaurant called 'ChotiWala Restautrant' (Choti means- a tuft of never-cut hair kept in the back of the head to maintain one's religious belief). This restaurant was established in 1958 and has a logo of a fat man with the 'Choti'. Nowadays, they have an actor sitting in front of their shops dressed like their logo who invites people into the restaurant. Many people were taking pictures with him before eating. As we just had our lunch sometime back, we didn't stop to eat Chotiwala.
One can spot many Sadhus (Hindu monks) and Yogis walking around the streets. They practice a path of spiritual discipline. They wore very simple saffron-colored clothes and beads. All of the older Sadhus have long beards and long hair. As Rishikesh is the heart and soul of spiritual Hindu practices, one can commonly spot Sadhus everywhere.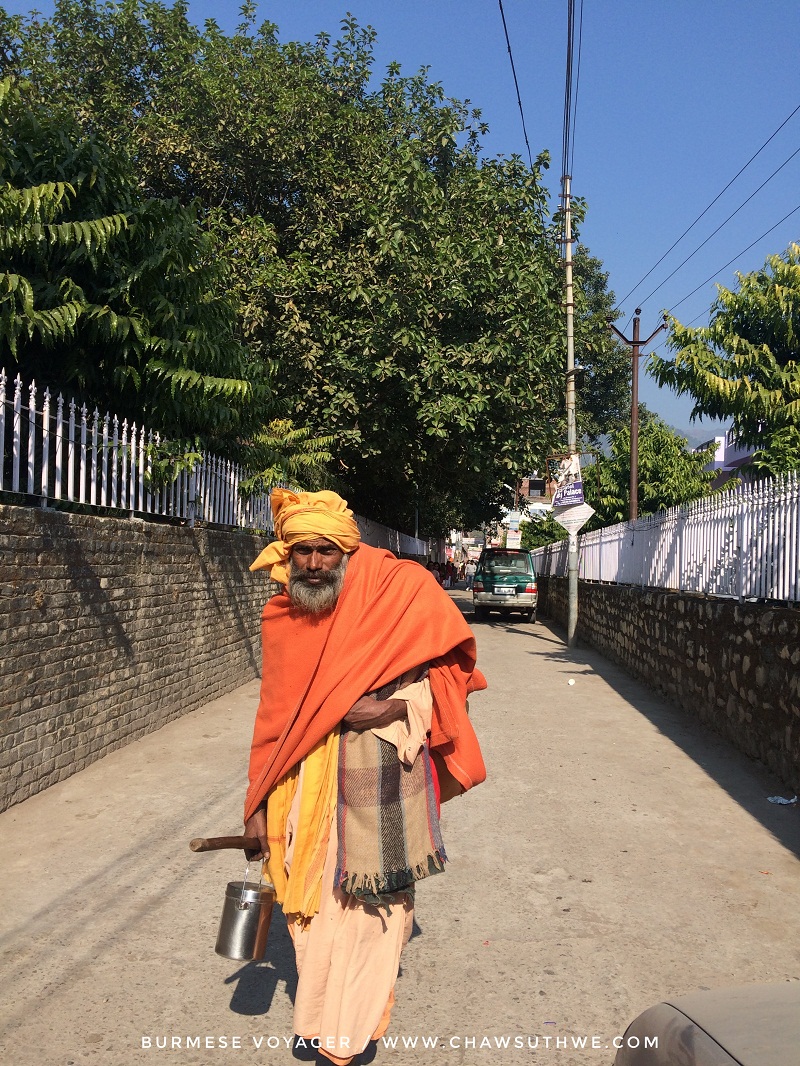 Ram Jhula Bridge and the Ganges
This iron suspension bridge across the river Ganges is bigger than its brother Lakshman Jhula. We didn't cross over the bridge but did enjoy its view from the river bank below it. Many people were taking a holy dip in the Ganges as it is reputed for its healing powers and it's believed to wash away ones sins. As it is winter, we didn't take the full dip, but we did try to wash our sins by offering water with our hands.
The Ganges River water was so clean and crystal clear. We felt fresh and yet cold while touching the water. I respect people who were taking holy dip in 10 degree Celsius cold, for their beliefs. People also floated dried leaf bowl filled with flowers and with candle, as an offering to the river, while praying. It was very relaxed atmosphere, with many cows chilling out on roads and river banks. Many people were also relaxing and meditating on the river banks. Some utilized this quite environment to do some reading.
Gita Bhawan – Ashram
We happily walked around and also helped some thirsty cows by holding open some water taps. Just after a few minutes of walking on the banks, we found Gita Bhawan, which had a huge complex of several discourse halls and over 1000 rooms for the comfortable stay of devotees free of cost.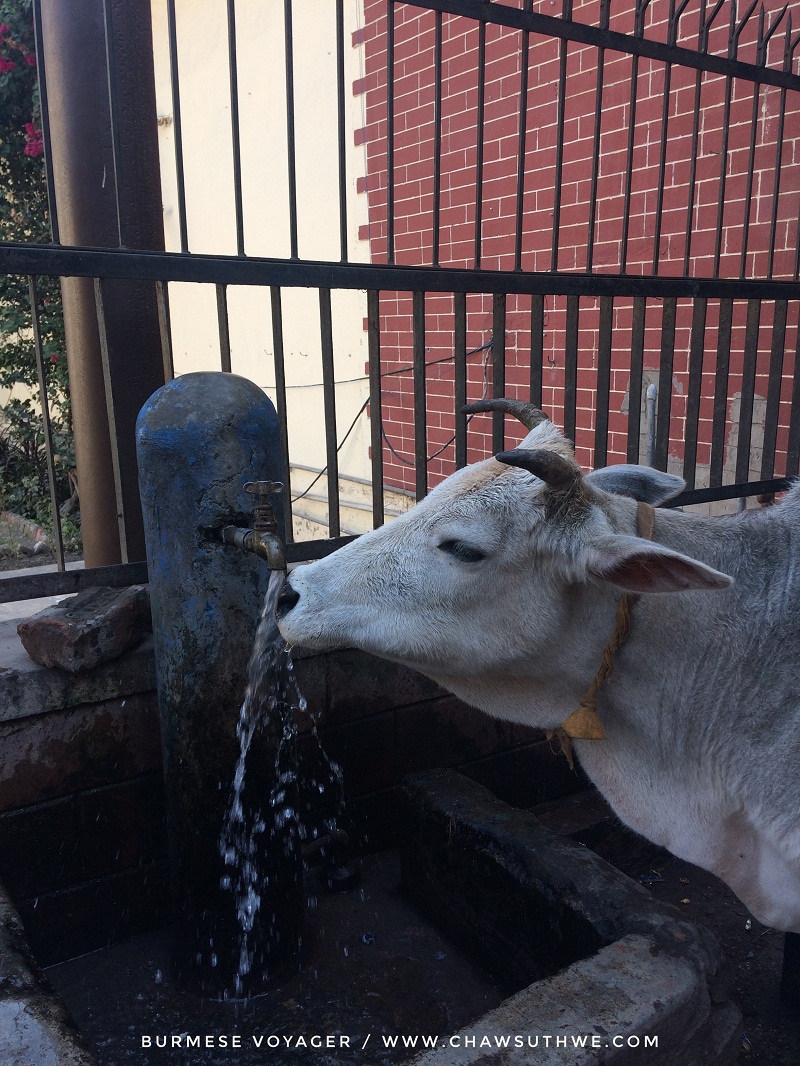 Gita Bhawan is a very well-known publisher of Hindu Religious books. In the complex, there was an outlet for selling those books. Additionally, the complex also head store for selling clothing items. Gita Bhawan is one of the largest and popular ashrams in Rishikesh for devotees who want to do mediation, prayer or Yoga by the Ganga.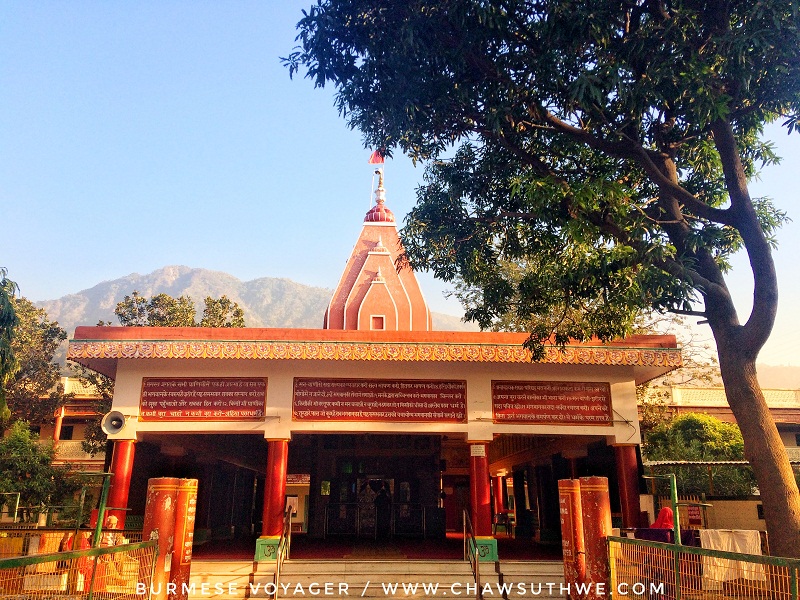 We enjoyed listening to prayer recital at the Gita Bhawan for sometimes and then headed towards our next Ashram.
Ganga Aarti (Hindu prayer Ceremony) at Parmarth Niketan Ashram
The holy Ganges is worshipped at various ghats in Rishikesh among which the Ganga Aarti at Parmarth Niketan is distinctively famous. It was around 5pm and we decided to witness the daily evening ceremony of Ganga Aarti in Parmarth Niketan. The ashram accommodates up to 2,000 people at any one time and it is one of the largest and well known Ashrams in the area, that are set on the banks of the holy river. The Ganga Aarti at Parmarth Niketan draws between hundreds and thousands of visitors each day from all cultures, all languages and all religions.
When we reached there, it was filling up with devotees and we also took a place. Ganga Aarti is usually performed at sunset.
As the dusk descended, and the time for Aarti approached, we could see young monks preparing for the ceremony. Soon all the monks started chanting the prayers. While praying, several priests also were holding up multi flame lamps and were moving them along rhythmically. The entire session took around half an hour and continued past sunset. It was a very powerful and uplifting spiritual ritual.
Even though I don't understand the words, overall experience and atmosphere was very serene, peaceful and satisfying. The best part of Rishikesh was this Ganga Aarti, and you should definitely include it in your Rishikesh itinerary.
After the Aarti, we walked back to our bunk stay which took us about 20 min. It was a enjoyable walk with the cold breeze and the empty streets.
Rishikesh to Tehri – Day 2
Next day morning, we headed towards the highest dam of India, Tehri Dam, which is also one of the highest in the world. On the way, the views of the layers of mountains were very stunning.
There were traffic jams on the way due to minor landslides which were being clear by the authorities. After driving on the winding road for about 2 hours, we reached the beautiful Tehri reservoir that holds the flow of Bhagirathi River.
Tehri dam is effectively used to regulate water levels and avoid flooding downstream to Rishikesh and Haridwar. The height of the dam is 855 feet and generates 1,000 megawatts of hydroelectricity.
Tehri hydro power complex includes tehri dam and tehri pumped storage hydroelectric power plant. Power is distributed to Uttra Pradesh, Uttarakhand, Punjab, Delhi and 5 other states.
The landscape of the dam itself is very attractive with emerald colored water and layers of mountains in the background.
The water reservoir, the cows grazing around, the mountains and the blue sky, together made a very beautiful scene that is difficult to describe in words.
There is a water sports place near the reservoir that had speed boat ride, power boating, banana ride and Jet Ski ride. We tried speed boating and it was awesome, but it seemed a little expensive at 500 Rupee per head for a short ride.
You might think that there is nothing interesting to see in a dam, but I can assure you that Tehri Dam offers the best scenery and the best view points.
We came back at evening and chilled by the bonfire at our bunk stay. Rishikesh looked more peaceful at night without any noise. We just enjoyed by gazing at the flickering lights on the hills and a cup of tea.
Riverfront – Day 3
We had half of day 3 in our hands to roam around before heading back to Delhi. We went to the 'Beatles Ashram' but instead of going inside, we ended up going to the riverfront near the Ashram. There were some tents of Sadhus on the river bank, but otherwise no public was present on the secluded beach.
As we walked on the beach, we met a Sadhu sitting by the bank, listening to the radio and weaving a handmade belt. Different size of stones, crystal clear water and the rushing river kept us there for a few hours. We walked around and collected some nice looking smooth stones as a souvenir from Ganges.
I felt in love with the place: the mountains, the river, the warm sun in the winter air. After the bustle of Delhi, Rishikesh felt like a heaven of peace. The air is cleaner, the sun is purer and people seem relaxed. Rishikesh's air felt special: may be because of the blessing from the Ganges or maybe it was from the Aarti. Rishikesh is the place where I felt safe even walking in the evening, and I felt more relaxed and at-peace.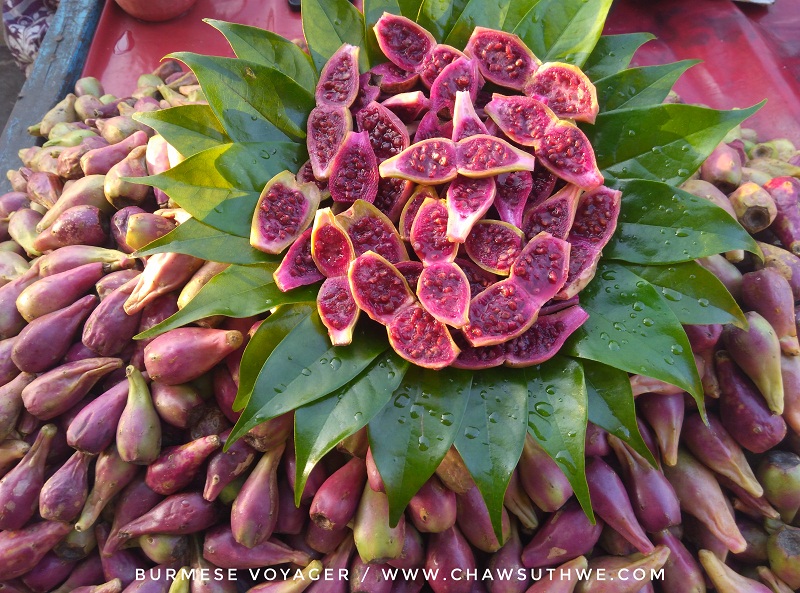 Rishikesh has something for everybody, be it a spiritual connection or white water rafting or bungee jumping. Yoga centers and meditation camps are also widely available in and around the Ganga River.
On our way back to Delhi, we drove besides a canal filled with Ganges water. Ganges, the most sacred river of Hindus and is also a lifeline to millions of Indians who live along its course and depend on it for their daily needs. 'Long Live Ganga' or as they say in Hindi 'Har Har Gange'.
---