It is a great thing to follow your passion. Having complete dedication to something in an area of life is required, whether it's your work or your hobbies. Seeing snow in real life is one of my travel bucket list item.
Some people live in cold weather amongst the snowy mountains tops. Some people live in tropical or arid climates. I am sure each of those will have a different bucket list on where they live and what is usual weather for them. I, who grew up in extreme tropical monsoon climate, had never seen snow and really wanted to see it. I felt very excited whenever winter was coming and kept planning to visit a snowy place.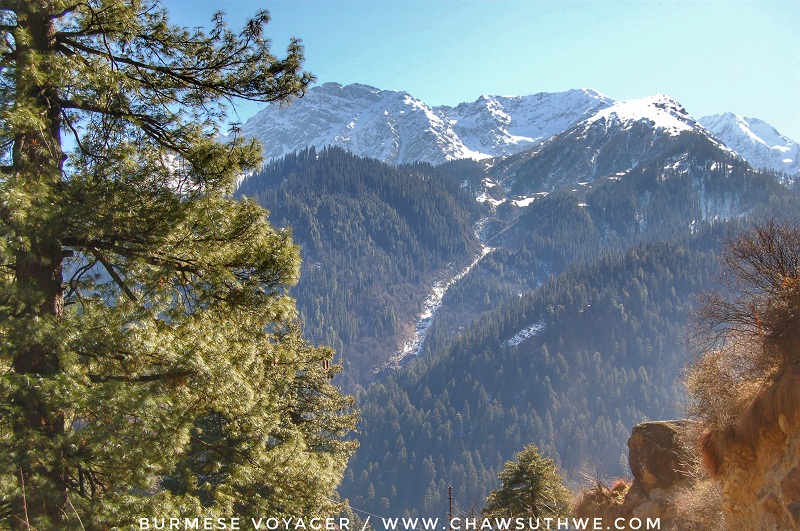 I researched to find a place where there were high chances of seeing snow.  As a mountain person, Himalayas are always a good option to explore plus there is high possibility of seeing snow. It took a while to prepare travel kits to go into the cold, like preparing warm clothes or jackets, gloves, socks and thermals.
We had a rough plan and we kept changing it on the fly to ensure that we reach snow. The initial plan was to visit Tosh, Kalga and Kasol and to skip Manali to avoid crowd. Instead we ended up visiting Tosh, Kasol, Manali, Gulaba pass and Solang valley.
Tosh Village
Tosh was our first destination as we had heard of snow fall there in winter. After 12 hours bus ride from Delhi, we reached to Bhunter. From there, we took another local bus to Barshaini, the last bus stop on this road. After Barshaini, one has to either walk or take taxi to reach Kalga or Tosh.
It was my very first experience in minus degree temperature, my feet felt like freezing.  We started walking toward Tosh but I found it difficult to walk so we took a private taxi till Tosh. Tosh is a small village, 5 km uphill from Barshaini. Decent tar road goes uphill till a bridge, across which we have the Tosh village. It took us 10 min to reach by taxi which would have otherwise taken an hour by hiking.
Tosh lies on the slope of a mountain and is located at an elevation of 7,900 feet. After crossing the metal bridge, we entered the village. The houses were beautifully built and were mostly wooden.We strolled along the narrow lanes, looking for a place to have breakfast.
This village is always describing as a "traditional village turned hippie colony" where one can spot a lot of hippie culture. We had breakfast at a hippie shack café while enjoying the scenery.
Unfortunately, there was no fresh snow fall in Tosh, only some left over snow could be seen here and there. Tosh was peaceful and picturesque, that was overlooking the Tosh River which begins at the Tosh glacier. It had a perfect view of the snowcapped mountain peaks around the village.
We checked with the locals and found that there was no snow in Tosh, Kalga and Kasol. So we decided not to spend two days in these villages and instead we included Solang valley and Manali in our itinerary.
After spending few hours witnessing the village life, we hiked downhill to Barshaini.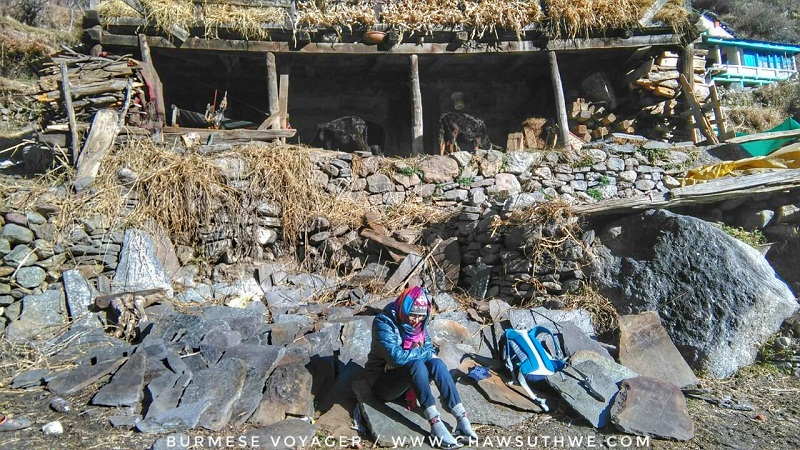 While hiking down, spotting the snowy mountains at a distance made me excited. The landscape filled with mountains, frozen river, the pine trees and the quiet ambience with occasional birds chirping, was the best takeaway from there.
Kasol
The majestically beautiful Himalayas are visible wherever you look, while coming from Barshaini to Kasol. After changing two buses, we reached Kasol, situated in Parvati valley on the banks of the Parvati River.
Kasol is a very touristy place as it is the Himalayan hotspot for backpackers. It is also called 'Mini Israel of India' because a lot of Israeli tourists come here. In fact, a lot of road signs and shop names are written in Hebrew.
We enjoyed walking around the hamlet and say hello to all fluffy mountain dogs. We walked along the Parvati river that is flowing through Kasol Mountains. The view was totally amazing with emerald green river water, the pines and the forests.
A visit to Kasol is not complete without buying Kasol's iconic panda cap, so I bought one too. I feel very cute whenever I wear this Panda cap and I know it's a little childish. Kasol is also a pretty place but because of the absence of snow there, we took a bus to Manali in the late evening.
Manali
After taking a bus from Kasol and after crossing many bumpy roads, we reached to Manali late at night. We were tired and we checked into the first hotel we found on the mall road. We quickly made booking for the next day's visit to Solang valley, and then we crashed into the bed.
Our hotel was on the tip of mall road, with unobstructed view of the complete Mall road, which is always crowded with people. As Manali is a valley nestled in the mountains, the view was also awesome in all directions. Many people come to Manali as their honeymoon destination or skiing destination. The chilling minus degree weather didn't seem to bother people in Manali, as the town always seemed lively. Manali was more touristy than Tosh and Kasol.
Gulaba Pass and Solang Valley
The next day morning, we took a taxi to Solang valley. It is a famous place for witnessing snow, skiing and adventure activities like parachuting, paragliding, skating and zorbing. There was a long queue of traffic on the way. There were apple farms everywhere but without leaves and fruits as it was not apple season.
We could spot beautiful snow-capped peaks and the view was very stunning.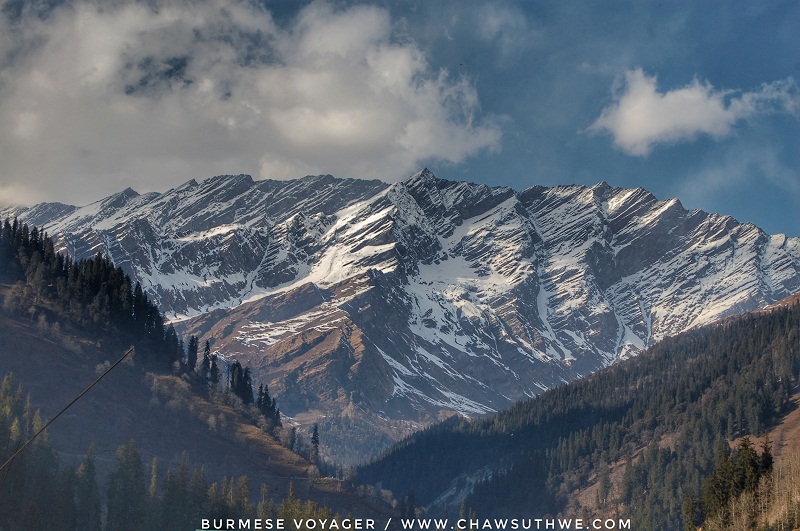 On the way, we stopped at Gulaba pass where there was a lot of snow. Finally, we saw snow and I was very happy to walk through the snow for the first time. It was awesome. Some parts were frozen like ice and were very slippery, making it difficult to walk on. The feeling of walking on fresh snow is like walking on the clouds. We played in snow, made snow balls and threw them at each other. It was really delightful. The happiness of achieving something in your bucket list is incomparable.
After playing in snow for hours and taking a lot of photos, we started from Gulaba towards Solang but stopped on the way to have lunch. Having hot food in cold weather felt very nice and the view of the snowcapped mountains added to the pleasure.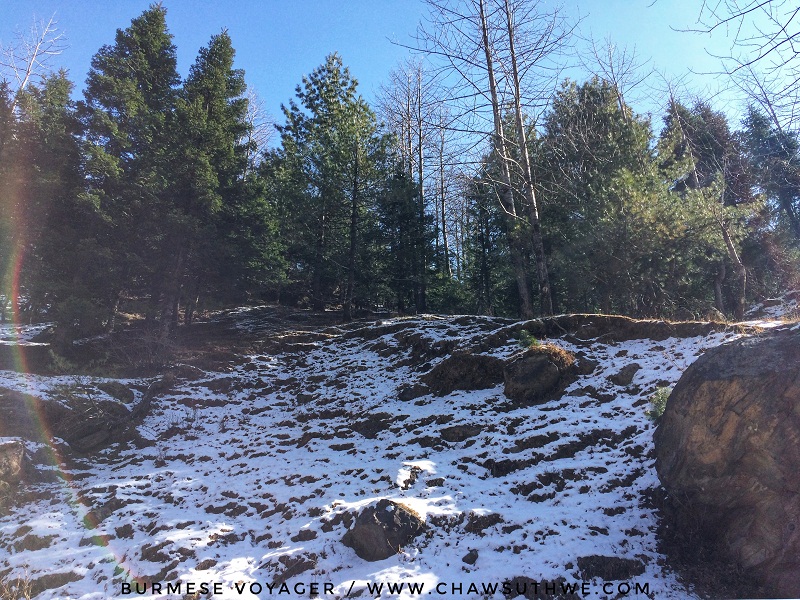 Solang valley is located at 8,400 feet of elevation and it was a new record for my 'highest place visited'. It comprises of giant slopes of meadows covered with snow. It is famous for its ski resort and other winter sports. The approached road to Solang valley was jam packed with tourist vehicles as it was peak tourist season and also a long weekend.  I got busy taking some photos of this beautiful valley while my partner tried skiing. Before my skiing turn, I slipped on a patch of ice and got a little hurt in my back. Little bit of back pain didn't deter me for enjoying the snow.
The way back
The next half day before going back to Delhi, we explored Manali, tried delicious Tibetan food, visited an ancient cave temple – Hidimbi Devi temple, went to Museum of Himachal Culture and Folk art, and also visited a Buddhist Monastery.
This snow chasing journey will be my memory forever. Magnificent Himalayas with beautiful snowcapped peaks is something that I will never forget. Even though the journey was tiring, my passion to see snow enabled me to overcome the tiredness.
How to reach there
Delhi – Bhunter  (12 hours)
*Take Delhi-Manali bus and get down at Bhunter. (HRTC / HPTDC / Private Operators run overnight bus services on this road)
Bhunter – Barshaini (Tosh – Kalga) (2 hours)
*There is a direct local bus that goes from Bhunter to Barshaini. Barshaini is the last stop on this road. You can choose either Tosh on the right side uphill or Kalga on the left side from Barshani. You can hike up to Tosh for one hour and it is little steep or there are private taxis that can take you to Tosh with 100 or 200 Rupees. There is only one way to reach Kalga, you have to trek.
Barshaini – Manikaran – Kasol (1 hour)
*Take a local bus from Barshaini to Kasol. If you wish, you can stop on the way at Manikaran.
Kasol – Kullu – Manali (3 hours)
*When you are in Kasol, you will spot the bus stand very easily because there is only one road. Take a bus from Kasol to Kullu. Get down at Kullu and take another bus to Manali. There was road construction going on when we were there, so be prepared for a bumpy ride and slow moving traffic.
Manali – Solang – Manali (A day tour)
*Take a private taxi to Solang Valley that you can book at your hotel counter or other tour operators on mall road. The cost will be around 1,500 INR or 1,800 INR (Jan/2018) depending on whether Gulaba is included or not.
Manali – Delhi (14 hours)
*Take bus to Delhi. (HRTC / HPTDC / Private Operators run overnight bus services on this road)
---