Varanasi
The historical city of Varanasi is one of the oldest continuously inhabited cities in the world. 'Colorful' and 'spiritual' are the best words to describe the charm of Varanasi. The city is sacred to Hindus, Buddhist and Jains, and it is considered to be one of the holiest places around the world. It is a well-known place for all religious people and international travellers. This Indian destination is famous for its Ghats(river fronts) that line the Ganges River.
Varanasi is also known as Kashi or Banaras. Hindus believe that dying in Varanasi brings salvation and they come to the city when they realize that they are close to death. Hindu devotees believe Varanasi is a favorable place to live and an auspicious place to die. Buddhist devotees usually go to 'Sarnath' (a few kilometers from Varanasi) where Buddha gave his first sermon at deer park. Sarnath is a part of Buddhist devotees' pilgrimage circuit along with Bodha Gaya and Nepal.
Millions of travellers visit Varanasi as the ideal 'India' destination. Varanasi is the place where one can see a diversity of culture, different religious practices and delicious food in one place. It is the destination where one can witness life and death in one place.
The spiritual capital of India, Varanasi, will fascinate you with its charm, and will give you an interesting travel experience. Here is my list of 6 things to do in Varanasi when you visit this holy city.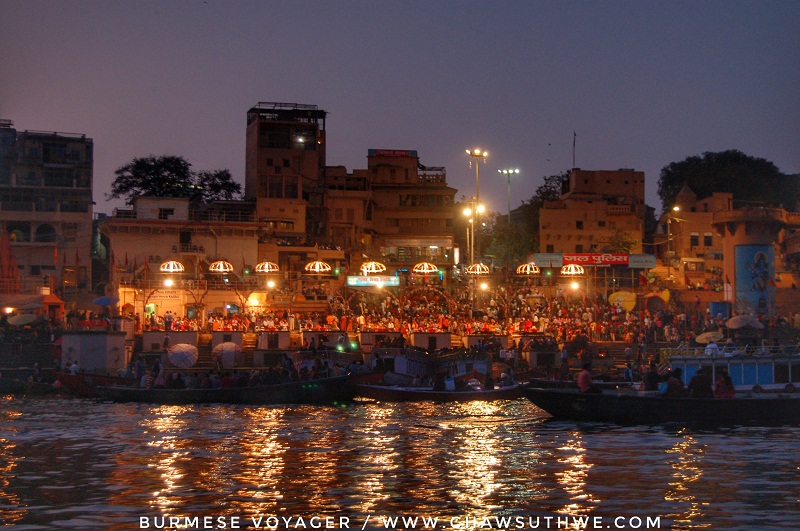 Things to do in Varanasi
1) Stroll around in the narrow alleys of Varanasi and Try local food
Do you want to experience what is the real Varanasi looks like? Well, go around all the alleys on foot. Wander around the small shops that sell different things like vegetables, groceries, beads, clothes, sarees, etc. Many cows were walking around the alleys, and we had to walk carefully while avoiding cow dung. You will spot many small temples in almost every corner and that is the beauty of this holy town. Many local people were walking in bare foot as they were going to some temple. Enjoy the walk.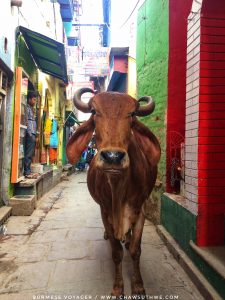 Varanasi has few famous Lassi (Indian Yogurt-based drink) shops. We tried 'Baba Lassi' while strolling around the alleys. We had Banana Lassi and Coconut Lassi, which were flavored with honey and dry fruits. It was fantastic, creamy and fresh. It is an absolutely must to try in Varanasi. If you would like to try some other street food of Varanasi, there are a lot of options, like PaniPuri (Round fried hollow crispballs filled with mixture of flavored water), Dosa (India pancake) and other sweets.
The sounds, sight and smells are just unbelievable.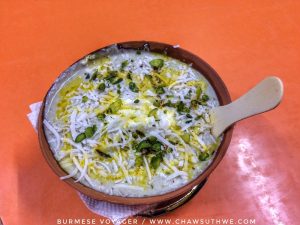 2) Visit temples
Varanasi itself is famous for temples and ghats so it will not be complete without visiting temples when you are in Varanasi. The most famous temple in Varanasi is 'Kashi Vishwanath Temple'. This famous Hindu temple is dedicated to Lord Shiva and has been referred to in Hindu scriptures for a very long time. The temple was destroyed multiple times by Mughal invaders and was re-reconstructed by Hindu kings who followed them.
Security is tight making entrance difficult, and bags, cellphones or pens are not allowed. They can be deposited in the shops by the temple entrance. As it is recognized as one of the most important places of worship in Hindu religion, Hindus from all over the world try to visit the place at least once in their lifetime. The streets near temple are filled with shops that are very colorful and quite attracting.
3) Ghats and river Ganges
The Ganges River is a sacred river for the Hindus and one will see traditional rituals and bathing occurring at all times of the day. Ghats in Varanasi are riverfront steps leading to the banks of the River Ganges. The city has 88 ghats. Most of the ghats are bathing and puja ceremony ghats, while two ghats are used exclusively as cremation sites. Most popular ghats are 'Assi Ghat', 'Dashashwamedh Ghat' and 'Manikarnika Ghat'.
One can walk along the river, and see all of the ghats and all happening things. Another nice option for viewing the ghats is to charter a boat and see them from the river. We also did that.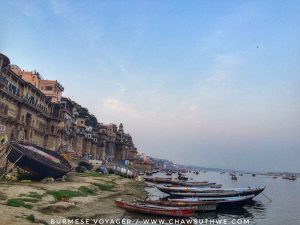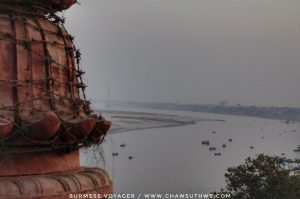 4) Boat ride in dawn or dusk
Boat ride was the best thing we did in Varanasi. You can do boat ride especially at sunrise or sunset. Boats can either be rowboats or motorboats. We did it with a motorboat at sunset. We started our sunset ride at one of the many ghat along the river. The river is flowing silently but ghats are bustling with people. The scene of pilgrims doing their devotions in the River Ganga at the backdrop of the centuries old temples is one of the most impressive sights of Varanasi. Sunset is a magical time for a ride, when the ghats are filled with Hindus performing their evening prayers.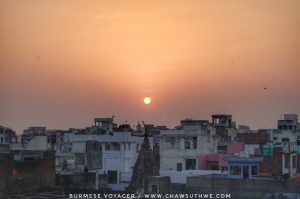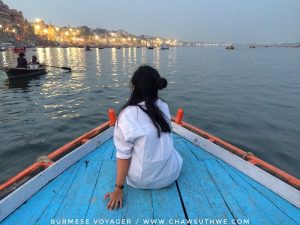 We headed to two cremation ghats and watched from our boat. It can be a bit overwhelming by the seeing the burning corpses in plain view in a cremation ghat. In Hindu traditions, cremation is one of the rites of passage and the ghats of Varanasi are considered one of the auspicious locations for this ritual. These two burning ghats are used to cremate 200+ corpses per day in full view before their ashes are eased into the Ganga.
Overall boat ride experience was totally awesome with a new spiritual and ritual experience.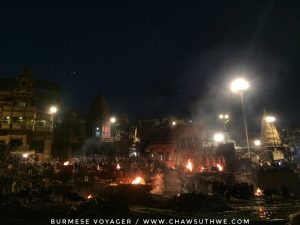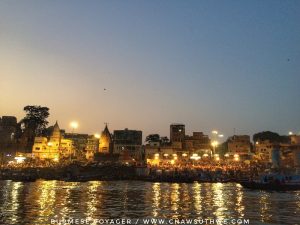 5) Attend Ganga Aarti Ceremony
Ganga Aarti is a ceremony to thank and praise the river, as Hindus consider River Ganges as a holy demigod who ran through heaven. The ceremony happens on the banks of River Ganges and every evening thousands of visitors assemble at Dashashwamedh Gaht to see the spectacle of evening Aarti.
To avoid hustle of the crowd, we watched Ganga Aarti ceremony from our boat. Hundreds of boats and pilgrims are also there with us in the river to watch the Ganga Aarti. A group of young saints dressed up with saffron conducted this ceremony and chanted. Each saint took a spot in the ghat and started the ritual by offering flowers to the river. The ritual included oil lamps waved in a synced motion, blowing conch shells, waved yak tail fans and peacock feather. The priests end the ceremony by pouring a bowl of water into the river. Meanwhile, the devotees offer small floating oil lamps with flowers on a leaf to the river. You have to make a wish while you are offering or floating this lamp to the river. Thousands of floating lamps on the river look like millions of stars on the water.
6) Go to 'Sarnath'
Varanasi played an important role in Buddhism as Buddha came to Varanasi in search of his five disciples. Sarnath is located merely 8 kilometers away from Varanasi and is one of the major Buddhist attractions venerated by the Buddhist from all across the globe. It was at Sarnath where Gautam Buddha after attaining enlightenment, and had preached his first sermon to his five disciples.
Several Asian countries have built Buddhist temple there with their own ancient traditional architecture there. We visited Thai temple, grand statue of Buddha, Japanese Temple, Sri Lanka Temple (Mulagandhakuti Vihara) and of course Burmese monastery.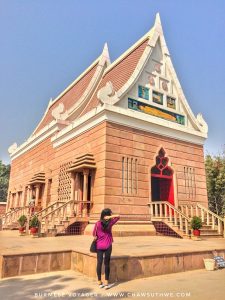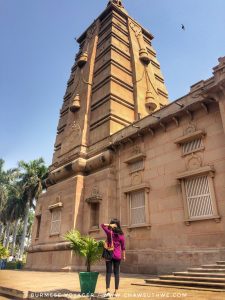 Most of the ancient buildings and structures at Sarnarth were damaged or destroyed by Turks. The sacred ruins of ancient Buddhist monasteries from the pre-Ashokan era are only foundations remaining. Dhamek Stupa is a massive stupa that still can be found amongst ruins. Stupa was built by King Ashoka in 500 CE to mark the spot where the Buddha gave the first sermon. After the parinirvana of the Buddha, his remains were cremated and the ashes were buried in it. The surrounding area of this stupa and ruins is peaceful and green.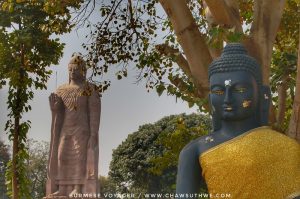 We visited Sarnarth Archaeological Museum also that exhibits the Buddhist cultural wealth, recovered from the site of lord buddha's first sermon at deer park. This oldest site museum houses findings and excavations of sculptures and artifacts. The original Ashoka pillar, the wheel 'Ashoka Chakra', 5th Century sculpture of the Buddha and a life-size standing Bodhisattva are part of the amazing collections of this museum.
Sarnath, a home to numerous Buddhist stupas, monasteries and temples along with the museum, is a place worth visiting.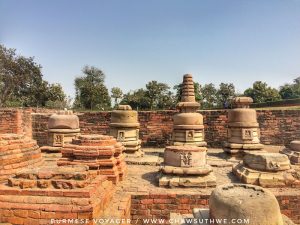 Tips
Best time to Visit: October to March
Get in: Varanasi is well connected by plane, train and bus
Wear: Modest Clothes
Buy: Varanasi Silk Sarees is worldwide famous.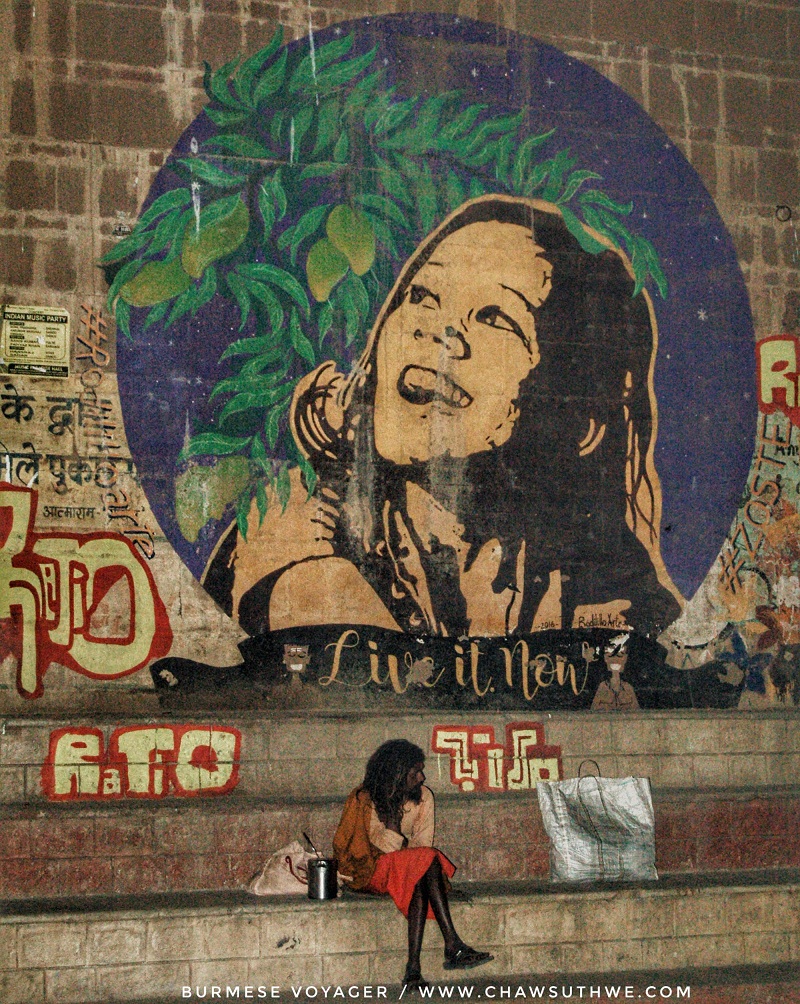 ---