Yangon may not be the capital city of Myanmar but still is Myanmar's largest city and its most important commercial center. Many travellers or backpackers will start their Myanmar backpacking route in Yangon as it is easy to fly in from South East Asian countries. Yangon is an interesting city that is full with so many things to see, do & eat.
To give you a good start in Myanmar, I have listed 'things to do' that are a mix of attractions and places to begin exploring the city. This list doesn't include everything there is 'must do' in the city but it's more about experiencing the city, the life, the culture and the things that happen along the streets.
Let's get started !
1. Walk around Yangon on foot
One of the best ways to experience Yangon is to just walk around the streets with no plans. Every corners of the streets has its own interesting things to see. You will never know what you will spot in all lanes, but I am sure it would be prettty exciting, with so many things happening in this bustling city.
2. Enjoy Myanmar tea shop culture and eat Myanmar food
Tea shops play a big role in Myanmar's social culture. People sitting at tea shops and chatting is a common sight. You want to experience it? Just grab a chair, sit with them, order a tea and chat.
Myanmar is situated between India, China and Thailand so you will get all types of mixed cuisines and traditional dishes. One of the favourites, 'Mohinga' is a fish-baesd rice noodle soup that you can easily get in almost every street and it's something you must try. Another one you should try is called 'Laphet Thauk', a salad made of pickled tea leaf and fried beans. Myanmar food is super delicious and one should not miss trying it.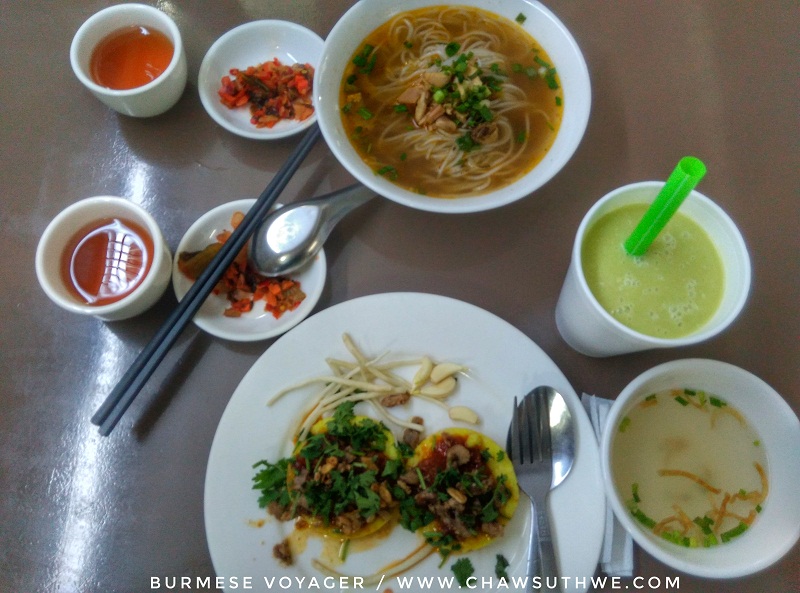 3. Ride through and around Yangon with circular train and water bus
If you want to experience more of Yangon life, ride Yangon circular Train and water bus. These all are public transportations that Yangon people use daily for their rountines. Circular train ride will give you a great chance to see the scenery changing from apartment blocks into greener suburban areas. Water bus runs along Yangon river, and offers a refreshing experience with a different view of Yangon from the river.
Here is my another blog with more information about circular train and water bus – http://chawsuthwe.com/2017/11/ride-through-and-around-yangon-with-circular-train-and-water-bus
4. Explore Sule Pagoda area and admire the colonial architecture in the buildings
Yangon boasts the largest number of colonial era buildings in southeast asia. Most of them are around Sule Pagoda, which itself is reputed to be over 2,000 years old, located in the heart of the city. You can find these colonial buildings in downtown area, on `Sule Pagoda road´, `Strand road´, `Bo Aung kyaw road´, `merchant road´, `Pasodan road´ and `bank street´. If you are an architecture lover, you must take a few hours to explore these roads and enjoy these great buildings.
5. Visit `Nagar (Dragon) Glass Factory´
Do you like treasure hunting? If so, there is a place for you, Nagar Glass Factory, a unique abandoned glass making factory that is hidden in a jungle in Yangon.
The factory started running at 1952 and closed in 2007, because natural gas to run the factory became expensive and there was a lack of technicians. The factory was destroyed by cyclone Nargis in 2008 and today all piles of glass are covered with fallen trees and bushes. You just walk along the trail and hunt for your unique gift to bring back home.
There's are a lot of broken pieces but some usable household items are also there like glasses, vases, bowls. The lovely owner's family will polish it for you once you choose. This is a place for offbeat explorers. You can also have a chat with lovely family members who are trying to keep alive this factory's legacy.
How to get there : Take a local taxi to Yogi Kyaung street or Hlaing Mahasi road. Find small sign board written `nagar glass factory´ or 'No.152, Yawgi Kyaung St.' Enter the compound and turn right.
Open hours : 8:00 AM to 6:00 PM (Sunday close)
Price : FOC but pay for the pieces you bought
Tip : If you are visiting around evening, wear long sleeve or take mosquito repellent with you because the area is dark and full with mosquitoes.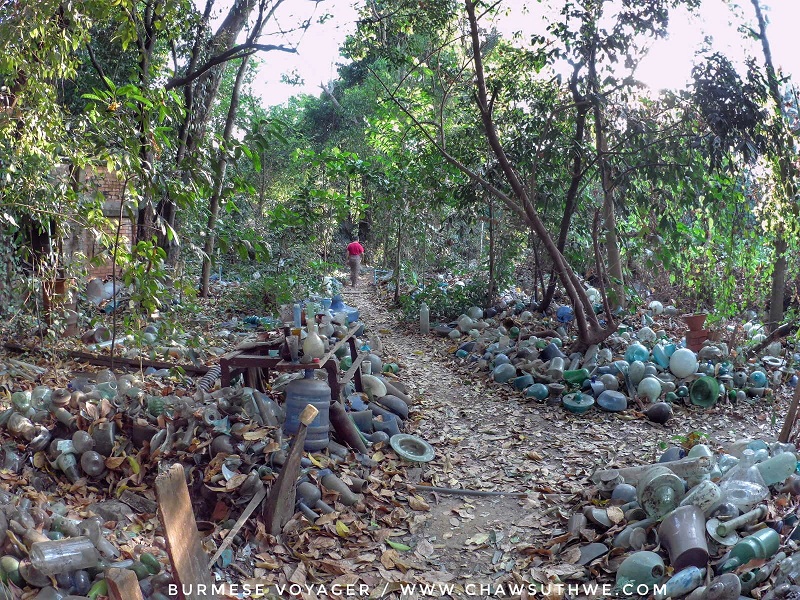 6. Watch sunset at Shwedagon Pagoda and see how it shines at night
No doubt! Shwedagon Pagoda is a must visit place when you are in Yangon. It is Myanmar's most sacred Buddhist pagoda which is 99 meter heigh and loaded with gold. The ambience is very peaceful there and one can do meditation or just sit and relax. I recommend you to go around 4 pm before sunset so that you can see the beauty of Shwedagon Pagoda in day light and night light, both. The time when the sun set and night light open up, is the best thing that you can see. It is a really peaceful place where you can find your inner peace.
Getting there : It is easily reachable by taxi from downtown Yangon.
Open hours : 4:00 AM to 10:00 PM (Daily)
Price : 10,000 Kyats for foreigners
Tip : Wear modest clothes that cover your legs and shoulders as it is religious place. One has to take off shoes as per Buddhist custom.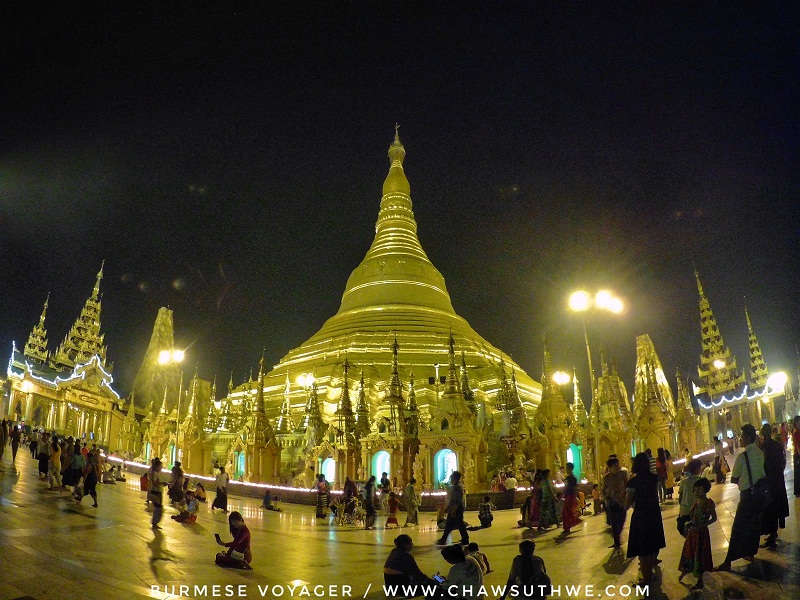 7. Go to China Town for an evening-outing or a late-night snack
China town in Yangon basically means 18th street to 22nd street, where you can experince the lively nature of Yangon and a wide variety of barbecue and beer. These area is full with snacks for your evening outing or late-night walk. 19th street is packed with many shops sell barbecue (meat or vegtables) with different types of beers. It's a lively place to chill out with your friends or enjoy the social night life or eat delicious food.
How to get there : It's located in 10-15 min walkable distance from downtown Yangon.
Price : Approximately (20,000 Kyats per 2 persons) but depends on how much you eat
Open hours : Evening to Mid-night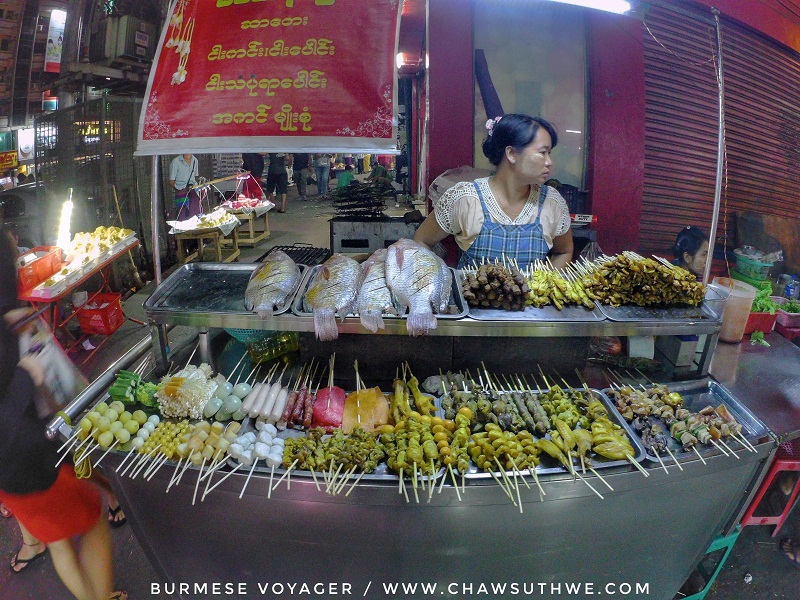 Conclusion
To experience the most happening city in Myanmar you should just walk around and see all things. The friendly nature of the people, beautiful buildings, delicious food, and the chilled out atmosphere of Yangon are just a few of many reasons you should visit Yangon.
I hope you guys enjoyed it. Please let me know your suggestions in comments below. I would love to hear from you. Love! ☺ ♥
---